Your Life Doesn't Come With A Roadmap… Or DOES It?
Ever feel like everyone else has all the answers to managing a perfect life, except for you?
If so, you're not alone. Most of us have that feeling at one time or another… and it is extremely unpleasant. We become filled with self-doubt, second-guess our choices, and flounder about, not sure what action to take next. Some parts of our lives may be running smooth as silk. While other parts fall embarrassingly short of what we had hoped for. Each day we sort of "wait for our real life to get started for us".
But it doesn't have to be that way.
Now you can have access to your very own customized roadmap for all aspects of your life…
A map to refer to EVERY TIME you come to a crossroads in life…
A map that unfailingly tells you which way to go…
A map you can always reflect back on if you veer off course…
See, you are the architect of your own life. And when you have a deeper understanding of how (and why) you've built your life, your work, and your relationships the way they are today, you naturally discover solutions much faster. When you can physically see the path you are on, you can make course corrections or pat yourself on the back as needed.
Your "Next Life" Is About to Start!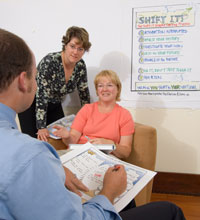 Imagine using a system that leads you through a personal visioning and planning retreat – that you do YOURSELF, in the privacy of your own home, at your own pace. No travel, no change in time zones, no border hassles … no worrying about having to share your personal story with others.
Now you can make the lasting improvements in your life that your heart truly desires. It's easily done with the help of a cutting edge product unlike any others on the market called The SHIFT-IT Home Retreat Kit.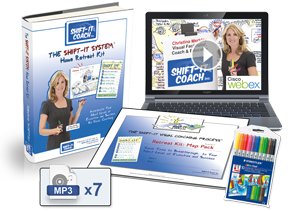 Hi, my name is Christina Merkley and, in a moment, I want to tell you how I put a new spin on coaching to really amp up the results of my clients FAST. First of all, there is a fairly new concept in the coaching industry called "visual coaching" (of which I am a pioneer) that adds visuals to the standard coaching process. As you probably know, coaching is a one-to-one consulting relationship between an individual and the coach they have hired. Maybe you've heard of how business coaches and life coaches can mentor you and impact your life. And they truly can!
When you combine regular coaching with personal visuals, you create a one-two combo that works on a profound (and lasting) level. Now with the SHIFT-IT Home Retreat system, you can simply do the intense work a coach would do ON YOUR OWN with easy-to-follow, step-by-step directions.
See, I believe that deep down inside; you already have the answers … which is exactly why I created the SHIFT-IT System. To let you take control. Now you can plan your own Home Retreat adventure on your own timeframe, at your own pace. Let me explain a little more about what SHIFT-IT is all about.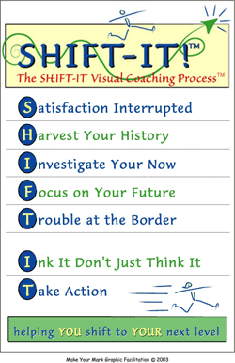 The letters in "SHIFT-IT" are an acronym that stands for the 7-part journey listed below:
S

atisfaction Interrupted

H

arvest Your History

I

nvestigate Your Now

F

ocus on Your Future

T

rouble at the Border

I

nk It, Don't Just Think It

T

ake Action
SHIFT-IT is an intensive thinking experience … a place for you to step back from your day-to-day activities and ponder the larger picture of your life. It is a highly reflective and personal experience. The results? Renewed clarity, focus and momentum for the things that are most important to you – both professionally and personally. You figure out what you really want. You work through your resistance to having it. And move forward with consistent action and belief. The things you want are magnetized to you in record time. So let's figure it out together…
---
How Does It Work? Let Me Break Down SHIFT-IT System For You In Detail…
Well first of all, my unique approach is a blend of my years of corporate strategy work, (using powerful visual facilitation techniques), standard coaching and psychological trainings which interlock together to create a very effective way of working.
Because this is such a unique system, I want to give you a lot of information about exactly how it works and what it can actually do for you. So let me go over each of the seven steps you'll be guided through…and you'll get also get a quick snapshot of the different visual tools (called Merkley Maps) that you'll be creating at home along the way.
But don't worry, you don't have to be an artist or literally draw even a stick figure if you don't want to. The base drawing has already been done for you. All you need to do is add your personal content, which you are guided to do with the detailed workbook.
---

Usually people are drawn to this work when their general satisfaction has been interrupted in some way. It may be that you have reached one set of goals, and are wondering what is next. Or, you may have hit a life milestone and are re-grouping as a result (sold business, left job, graduation, divorce, kids leaving the house, significant birthday, retirement, etc). Or you may be frustrated by having not yet reached the potential you inherently feel you have, and are ready to break through. Whatever the reasons, at the first stage of this process, the SHIFT-IT System aids you in mapping out what is 'up' for you. What crossroads you are standing at?
Merkley Map #1 – At The Crossroads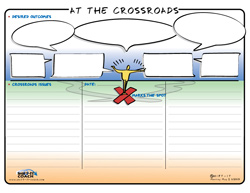 ---

The second step of the SHIFT-IT System is to 'harvest your history'. Who you are today is a culmination of your experiences, beliefs, and exposures. You are in the midst of your own unique 'evolutionary' process. Nothing happens in a vacuum … there is always a larger context that can help you make greater sense of your current situation. Here is where you will visually record your life-to-date. Tracking where you have been to better understand your past, your influences, and how you have created your current reality. And releasing that which no longer serves you and who you no longer are.
Merkley Maps #2-6 – The Life Maps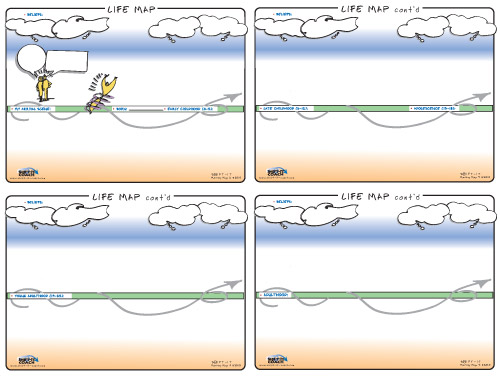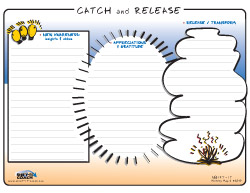 ---

The third step of the SHIFT-IT System is to 'investigate your now'. This is an opportunity to view your present reality. To see what is going on for you right now (X marks the spot). How satisfied and dissatisfied you are in the different areas of your life. What do you have going for you (your strengths and skill sets) and what do you most need to learn (your learning and developmental areas). And taking an inventory of the materials, assets and resources that you currently have at your disposal.
Merkley Maps #7-8 – Focus on Me and
S.E.L.F. Inventory
---

The fourth step of SHIFT-IT is to 'focus on your future'. After analyzing your past and your present circumstances, you are now ready to embrace the future you truly desire. This module is all about proclaiming and stating what you truly want. A chance to dream and dream BIG. You create your own custom Personal Vision which is your order form or instructions 'to the universe'. This vision becomes your North Star. Your magnet. Pulling all of your positive desires towards you.
Merkley Maps #9-11 – Essential Extracts, Future Self Vision and Magnetism Map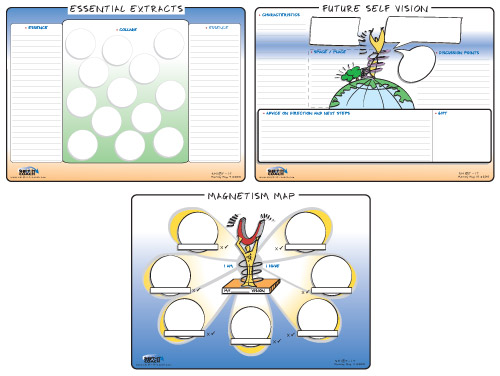 ---

The fifth step is 'trouble at the border'. This is a hugely important step – a step that most other strategic planning programs ignore. Whenever you create a Vision, you MUST deal with the resistant energy that arises in opposition to it. Here's where you get clear on what your natural resistance is to having what you want – to making your vision a reality. You uncover your blocks, doubts, uncertainties (that Itty Bitty Sh!tty Committee inside of your head that doesn't want you to move out of your stagnant, but comfortable, safety zone). The Trouble at the Border stage is a blockbuster – literally! It gets you aligned and 'allowing' your Vision – working with powerful, cutting-edge Law of Attraction and Alchemical processes that are made powerfully simple via the visual approach.
Merkley Maps #12-14 – Flip It, Inner Alignment and Archeology of Beliefs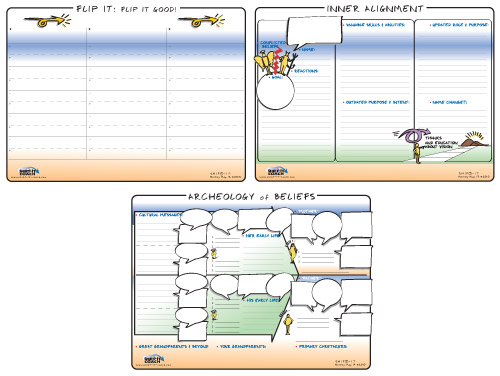 ---

The sixth step is "Ink It Don't Just Think It" and it is very powerful. You can't stop with just thinking about your life. You must create an overarching, holistic plan that is put down on paper. This is the move that pulls all of your thinking into one cohesive picture: Your Big Picture Plan. It bridges the gap between your current reality and the reality that you want to create. It starts organizing you and getting you clear on the next steps you will need to take. This stage transitions you from the land of dreaming into the LAND OF DOING. Now you are ready to assume responsibility and start taking action!
Merkley Map #15 – My Big Picture Plan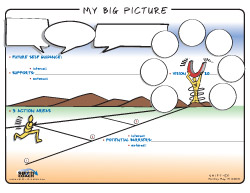 ---

The final step of the process is "Take Action". With Law of Attraction (or LOA) at work, your Vision is being magnetized as long as you are open and allowing for it. But just because LOA is at work, doesn't mean you get a completely free ride – you still need to take an active role in your own transformation. Success comes to people who take responsibility for themselves, and actually implement the things they know are their next steps. This final phase of the process gets you down to a detailed, S.M.A.R.T plan (specific, measurable, actionable, realistic and timely). And supports you in doing your steps, creating a healthy, supportive, encouraging environment. And most importantly, it makes you make a very deep commitment and articulation of your intent – to the self you are in the process of becoming!
Merkley Maps #16-17 – Take Action Plan and Declaration of Intent

---
That's it! That is all there is to it. What makes this process so distinctive and powerful is the combination of inner introspection, and the revolutionary technique called "visual coaching". So SHIFT-IT takes you through a process of systematically recording your past, present, and future. The seven stages (and 17 Merkley Maps) guide you through the process in a visual format so you literally "see" your thinking unfold. By getting everything down in one place, clarity and focus become very easy. And that is when massive results happen!
---
Why Add A Visual Component?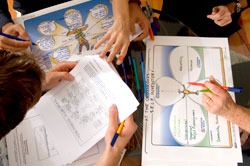 I'm often asked why I would choose to add visuals in as a coaching tool. The answer is very simple… It's because the majority of us learn VISUALLY making visuals a natural learning tool.
See, most people fall within one of more of the following learning styles (or how one best receives and processes information):
Visual (60-72%) – The largest cross-section of people. Visual learners tend to learn better when a variety of visual aids, such as blackboards, over¬head projectors, and films, are used during instruction. They often use imagery to learn complex subjects.
Kinesthetic (18-30%) – Kinesthetic learners enjoy not only using their hands in the learning process but benefit from all types of physical movement while learning.
Auditory (12-18%) – Auditory learners receive information best by listening; they tend to learn best during lecture and audio-based instruction.
The beauty of SHIFT-IT and its 17 visual templates, or Merkley Maps, is that not only does it benefit visual learners (the majority of us) it also benefits kinesthetic learners (by writing and filling the templates out), and even auditory learners (when you share your work with others by explaining your maps to them). So much more user friendly than the majority of typical coaching methods, which are almost exclusively auditory (the smallest group in the whole population)!
The SHIFT-IT maps, while attractive and fun to use, are also deceptively simple learning tools that benefit ALL types of learners. Even if you can't draw a stick figure, you can benefit from visual coaching. How? The simple act of moving a marker and illustrating your life taps into a part of the brain that helps you take action! See the SHIFT-IT tools use both sides of the brain (both logical and creative) since they blend both visuals and words. The result? A product that makes it possible for EVERYONE to easily receive and process information!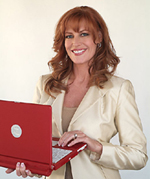 "After coaching with Christina Merkley, all I can say is, 'Wow!' If you haven't noticed, there are coaches EVERYWHERE. It's not easy to know if they are a good match or not. But because Christina is so entrenched in the Law of Attraction in a very real and human way she was able to reflect and shift my energy unlike I've ever experienced before. (And she does while keeping her sense of humor which is one of my key values.) I learned that when you are in emotional alignment, it's easy to live the life you want. Everything after that just flows… What a freeing experience!"
- Lorrie Morgan-Ferrero, Red Hot Copy, Van Nuys, CA
You Don't Have to Settle for Just What You Need…Now You Can Have Everything You WANT!
We don't all want the same things in life.
Some of us want to shift our professional careers. Some are interested in changing our personal lives. Some want to give back. Some desire better health, more money, children… the list is as varied as our personalities.
There is a big difference between settling for what you need versus DISCOVERING what you really want deep down inside. Many people don't recognize what their heart truly desires without a little outside help. As you progress through the SHIFT-IT System you will…
Discover how to tune inward and dial down outside distractions in your life so your can open up to the messages that inner voice is whispering to you;
Ask questions to bring yourself in alignment with desires you didn't even know you had (you'll be amazed by the answers as well);
Mine your supposedly "misguided hopes and dreams" to find true gold: clues to your true purpose and passion in life;
Easily sort out your real desires from the intentions, hopes and desires OTHERS have for you (in no time you'll figure out the difference between your own, true inner voice and the peanut gallery of outside influences);
Be able to define and focus on exactly what you want out of life and eliminate the stubborn obstacles that keep you from having what you want (when you have clarity and belief, life moves forward quickly);
Make the right decisions without ever second guessing yourself (for many this is one of the most important principles they'll ever learn).
Since its inception, I've facilitated SHIFT-IT with hundreds of people. It works! Why should the benefits of visuals, strategic planning and good visioning best practices be reserved just for big business and their big pockets? They shouldn't! Why should the best practices of coaching and personal growth be without the boosting effects of visual methodology? They shouldn't! Now you, as an individual can benefit from the best practices of all of these disciplines — having these methods work for you and for your life. Helping you build a more satisfying life for you and yours.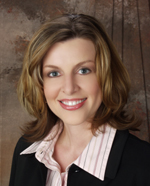 "Coaching with Christina was truly a life-changing experience. I was stuck at the time and the Shift-It System helped me to understand what steps to take next so I could move forward and reach my goals. Not only do I still use my maps on an annual basis for my personal and professional planning, I recommend her services and products to my clients all the time because I know they will benefit from such a visual coaching experience. The maps just make the growth so much more concrete and more effective. Thank goodness Christina does what she does!"
- Sheri McConnell, Sheri McConnell Companies, San Antonio, TX
Will SHIFT-IT Work for You?
As you're sitting here reading about the benefits of SHIFT-IT, I can imagine you are wondering if it can actually work for you. Well SHIFT-IT is for you if you:
Are looking for a way to finally achieve what you know you are capable of;
Are ready to recognize and dissolve the blocks holding you back in your life;
Want to be inspired to a new level of clarity, confidence, and passion;
Desire to discover a new career or life path but don't know where to begin;
Are motivated to strengthen your personal character and life;
Just want to be the best person you can possibly be!
SHIFT-IT is very much a linear or rational process, but it has a non-linear and non-rational side to it as well. It integrates Law of Attraction principles (which are seldom discussed openly in business settings) with your personal history and values. That's good news for you. Once you add visual facilitation to the mix of personal growth, you gain more clarity than you could possibly achieve with the vast majority of coaching programs that do not use visuals.
---
Surprise! SHIFT-IT is Peppered with

Law of Attraction

Principles

The Law of Attraction can be explained like so…Our minds are kind of like a broadcasting and receiving station. We are continually sending out and receiving signals – whether we know it or not. We send signals out (our vibration) by what we focus on and how we feel. We send out positive signals by focusing on things we like and that make us feel good, and with that energy, positive things are attracted right back to us – like attracts like. However the same principle also applies when we focus on things we don't like and we really don't want (we unfortunately get more of the things that match that energy).

The more you focus on what you really do want (things that make you feel good), the more you draw them effortlessly into your life. SHIFT-IT is so powerful because it makes your thinking visible – you literally SEE how you are creating your vibration…and hence how you are creating your reality. It teaches you a discipline of awareness about your thoughts and your focus you may not have seen before. It trains you to get your focus OFF of the things you don't want and powerfully ON to the things that you do. This literally is the secret to manifesting effectively– to getting what you want in life. And it's a heck of a lot of fun when you get the hang of it!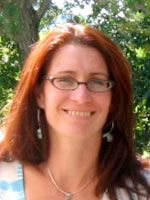 "Christina's visual method helped me get clear on my accomplishments and the areas in my life that brought me the most enjoyment. I really tapped into the fact that I needed a much more creative outlet for work. In the year since working with her, I've totally transformed my life. I hung up my business-consulting hat, moved back home to North Carolina and opened my own home decor store. Working with Christina was a pivotal stepping stone in my life."
- Phyllis Roberts, Owner, Dragonfly Home Decor, Asheville, NC
Changes happen very quickly when you really apply this principle – and SHIFT-IT funnels you step-by-step through that process. In SHIFT-IT I've mapped things out so more people, just like you, can benefit from the power of this process, in your own space, your own time, and to your maximum benefit. There is no need to wait for your life to get on track and happen the way you want it to! It's time to SHIFT-IT!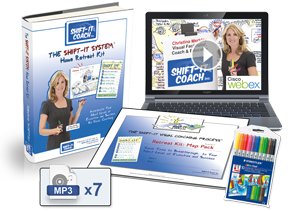 YES, Christina!
I am ready to make a drastic SHIFT in my life! Sign me up for the SHIFT-IT Home Retreat Kit! I understand that I will receive the complete kit.

Complete Kit Includes:
Step-by-Step bound manual filled with 300+ pages that covers all 7 stages of visual coaching in excruciating detail (it really is as if I am sitting right next to Christina guiding me through the process – nothing is left to chance)
Full Color Map Pack: This handsome 11×17 workbook is in full color with 17 visual templates (Merkley Maps) I can keep as a journal of my journey
10 Sturdy Colored Markers with washable ink for drawing
7 downloadable WebEx Video Recordings & Audio MP3s From a SHIFT-IT Online cohort (so you can follow along at your own pace)
45-Minute SHIFT-IT Strategy Session by phone with Christina, The SHIFT-IT Coach herself ($297 value!) … send her your maps for analysis, feedback and personalized SHIFT-IT suggestions for your unique journey;
Bonus: The Entire Downloadable Kit so I can continue making updates as my future unfolds
Total Investment – $497

3 Monthly Payment Option – $174 *

7 Monthly Payment Option – 75 *

* Please note: 3 and 7 pay plans include additional $25 administrative fee. First payment is immediate, then each 30 days until conclusion of plan. Your Kit is shipped immediately as I trust my clients to fulfill their agreements.
SHIFT-IT Coach, Inc. All Rights Reserved. Terms and Conditions.
So Exactly Who IS Christina?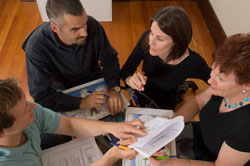 My job as your coach and the creator of the SHIFT-IT Home Retreat Kit is to help you literally pull answers out of yourself.
Again, remember you do not have to draw (unless you want to). If you can print words (even badly) you can benefit from the SHIFT-IT system.
Let me give you a bit more background. I cut my teeth in the corporate world. With 600+ meetings under my belt, I have facilitated, recorded and created meeting maps for a host of corporate, not-for-profit and governmental agencies, including Hewlett Packard, eBay, Stanford University, the U.S. Department of Energy, The American Institute of CPAs, Readers Digest Funds and The Gordon & Betty Moore Foundation.
I also have a masters degree in Organizational Development & Transformation. Plus I spent four years with The Grove Consultants International, the San Francisco firm that pioneered the field of visual facilitation. With all my success in the field I saw a much larger vision of how to use visuals to help real people, not just big conglomerates.
---
I Wanted to Help Real People Achieve Change MUCH Faster! (Not Just Corporations)
Just working with corporations wasn't as satisfying as the personal development work I found myself attracted to. Based in progressive California, I soaked up as many personal growth experiences as I could:
The Hoffman Quadrinity Process
Native American Sweat Lodges
Hellinger/Family Constellation Work
Enneagram & Personality Typology Trainings
Money, Prosperity & Abundance Seminars
Energy Awareness and Law of Attraction Principles
Body-Oriented, Cognitive and Learned Optimism Therapies
Relationship & Couples Workshops
And so much more!
I also trained as a Co-Active Coach, through The Coaches Training Institute. And I trained as an Alchemical Hypnotherapist through The Alchemy Institute.
During my extensive trainings, I soon became known as the 'woman with the markers'. People clamored to pair up and work with me because of the detailed, visual notes I created (remember what I said earlier about most of the population being visual). After seeing how much visual coaching helped my personal growth classmates, I branched out to work with friends and colleagues… Doing maps of their lives, leading them through visioning and planning sessions for themselves and their practices and businesses. From these experiences I began to create the templates today known as the Merkley Maps in the SHIFT-IT System you are about to experience.
Since its inception, I've facilitated SHIFT-IT with hundreds of people. It works! Why should the benefits of visuals, strategic planning and good visioning practices be reserved just for big business and their big pockets? They shouldn't! Why should the practices of coaching and personal growth be without the boosting effects of visual methodology? They shouldn't!
Now with this Home Retreat Kit, you can benefit from the best practices of all of these disciplines at a fraction of the price you would pay to work face-to-face with me or in a corporate boardroom. These methods work for you and for your life. Helping you build a more satisfying life for you and yours.
---
You Are Already Creative, Resourceful And Whole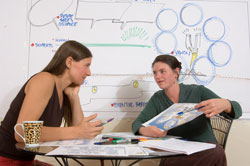 One thing you should know about how I think about you – I KNOW you are creative, resourceful and whole. And, that you, and only you, have the best answers for yourself.
You are not 'broken';
You are not 'wrong';
You and your life don't need 'fixing'.
You are simply mid-process in your evolution…and the next chapter is just about to be written (by you!). You are brilliant. You are wise. You know what's best for you. So, trust yourself and trust this process. Let yourself be guided by the answers that want to come forth from you.
So go through all seven stages of the process and work yourself into clarity, passion and a new reality. While you're at it, listen especially close for that quiet voice inside you that is whispering what you really, really want (even if it seems too big or impractical). Pay attention to what you really are capable of creating for yourself. You hold the keys!
Take it one step at a time and be persistent. Nothing can be born without first being envisioned and dreamed. So dream a bigger dream for yourself. The universe supports people who go for it — so go for what YOU really want. I'm in your corner!
Yours in SHIFTing,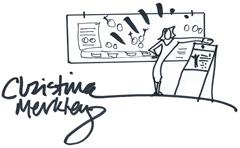 Christina Merkley
P.S. There is no need to put off your dream life any longer. SHIFT-IT is a unique system that dives down deep in your psyche and supports you in building a successful foundation from the ground up.
P.P.S. With the creation of the SHIFT-IT Home Retreat Kit, you can get access to the same tools and methods I have used successfully with literally hundreds of clients. Now you can use that same system in the privacy of your own home to do your own SHIFT-IT work. With the 17 templates, and full instructions, you can walk yourself step-by-step through your own private SHIFT-IT retreat.
P.P.P.S. If you would like some personal guidance with SHIFT-IT, consider meeting me live in Victoria, British Columbia for a live on-site Retreat or some tele coaching.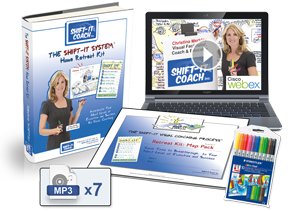 ---
What Others Are Saying About Christina's Work…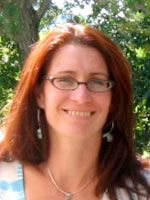 "Christina's graphic method helped me get clear on my accomplishments and the areas in my life that brought me the most enjoyment. I really tapped into the fact that I needed a much more creative outlet for work. In the year since working with her, I've totally transformed my life. I hung up my business-consulting hat, moved back home to North Carolina and opened my own home decor store. Working with Christina was a pivotal stepping stone in my life."
- Phyllis Roberts, Owner, Dragonfly Home Decor, Asheville, NC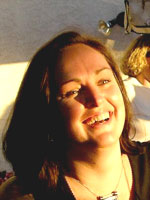 "What a powerful way to shift my life into a state of achievement rather then staying in a dreaming or aspirational state. Its tough but rewarding work – come ready and willing to grow."
- Lisa Morgan, Change Management Consultant, Calgary AB
"The SHIFT-IT visual maps really helped me identify my values and beliefs. And helped me make a decision about the future of my work and how to move forward. It's a very measured process that helped me think logically about my thinking process. Very useful visual tools that are culturally accessible (translates well for European perspectives)."
- Barney Cunningham, Change Manager, Stockport, United Kingdom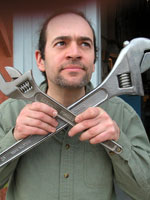 "I've hired Christina Merkley on and off for the last seven years, primarily for personal coaching and partnership facilitation. She's seen me through two sad, but amicable, business partnerships dissolutions. Christina's smart and intuitive (although I generally hate using that word!). A natural solvent … boiling disparate personalities to get to the pure, essential content of what needs to be done, by when, by who. Good at making things quantifiable and tangible."
- Paolo Salvagione, Owner, Swift Engineering, Sausalito, CA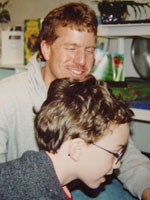 "I've employed Christina Merkley as my coach on-and-off since 1998. Six months after she led me through a vision exercise where I imagined myself on the cover of a magazine, the real thing happened when I made it into Java World. Since then I've been covered in MIT Tech Review, The NY Times, Popular Science, and Motor Magazine and was nominated for a 2003 Corporate Award sponsored by the World Tech Network. Yeah, you could call this work effective! Now I'm working with her again to take it up to the next level."
- Tim Clark, VP of Engineering / Director of R & D, VTTI, San Francisco, CA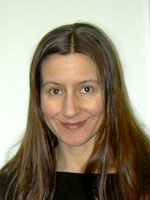 "I've had two experiences with SHIFT-IT in the last 6 months. I've fully manifested my first vision already – it actually started to really form in just two months time. Cute new place to live, clarity and commitment around education next steps (I've jumped into college again at 38 – am getting A's! and am also going to California for Yoga certification), and I attracted a terrific guy – who was living across the street from me, but didn't appear until after SHIFT-IT. Spookily amazing!"
- Wendy Crowther, Overseas English Teacher (Korea) integrating back home after a decade abroad. Victoria, BC
"I engaged Christina after a cross-country relocation, to help me get my bearings and get support for my new life. She's an empathetic, intuitive coach and her visual approach is very, very cool. I could literally see the various areas of my life begin to fall into place. There is a palpable energy to the charts we co-created, like a magnet to keep my "inner compass" pointed in the direction of my dreams. She's really onto something with this innovative way of working!"
- Annie Chase, Computer Programmer & Hypnotherapist, Santa Rosa, CA
"A gifted and intuitive listener and facilitator, able to draw out what is useful from the past, present and hopeful future. Eclectically and timely trained in personal and organizational development, she can take you safely as deeply as you want to go."
- Bill Faust, Faust Consulting, Sausalito, CA (formerly Director, Motorola University Executive Education and Leadership Development, Chicago IL)
"Can't say enough about this remarkable woman and my coaching experience with her. I loved being able to actually visualize my own internal processes, to give them shape, form and color. She was a gentle guide, pushing me along just enough, mapping out in front of my eyes a holistic pattern and purpose for the next few years. This becomes, I think, a manifestation of some kind, bringing together my conscious and unconscious thought processes. I've already referred three of my close friends."
- Kathy Evans, Poet, Teacher, former Board Member of California Poets in the Schools, San Francisco, CA
"I have consistently reviewed the collages, charts and book to keep me on track with my dreams and plans. It is SO much better than a typical coaching session; it is a VISION QUEST with Big Results. I want to say to anyone desiring focus, a clear visual picture of your life, efficiency and a fun process".
- Dr. Mark Robson, Chiropractor / Professional Speaker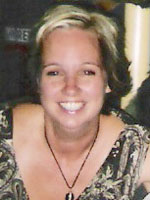 "I commissioned Christina to help me create a "transformation plan" for my life. Within six months I manifested a new house, ended an unsatisfying relationship, negotiated a more flexible schedule to have more time with my son, aannnddd started meaningful volunteer work that feels like it may open into a whole new career path. Holy #*!", this stuff is powerful. The only thing left is the wedding on the beach!"
- Terri Eardley, Associate Investment Advisor and Mom, Victoria BC
"Christina provided me with amazing instruction, encouragement and kindness when I took my first steps into the world of visual recording. I'm the staff visual recorder and visual tools designer for Global Business Network (www.gbn.com), working in a variety of settings (e.g. strategic planning sessions, scenario planning workshops, focus groups), on a wide range of topics (e.g. future of executive development, consequences of cultural change), with our clients and member organizations. Christina's warm personal style and the strong breadth of her experience and knowledge made all the difference as she introduced me to a truly wonderful world of visual practice and colleagues."
- Lynn Carruthers, Global Business Network (GBN), Visual Recorder and Visual Tool Designer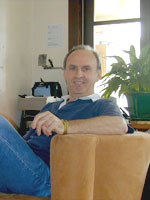 "I found Christina to be a highly skilled and enthusiastic coach. It was such a powerful experience to have my history map drawn out and the visioning paid off quickly, as an unexpected raise happened within weeks! Her method is unique, non-threatening and incorporates love and gratitude as keys to greater success in life … helped me free stuck areas in my life … and the charts continue to act as clear reference points for my life and work goals."
- Bob Alexander, Office of the Premier, Victoria, BC
"The work of soul is challenging, necessary and rewarding. It's this very work that allows me to find and harvest my place in this world. I am a human becoming."
- Lisa Stekelenburg, Victoria, BC
"The mini retreat that I did with Christina was very motivating. She helped me get my ideas out of my head and organized onto paper. When I need inspiration and a bigger picture view, I pull my charts out to get re-inspired and keep going in the direction I have set out for myself. I've also shared my maps with my girlfriend and they've really helped me communicate to her what is important to me, both professionally and personally – what I'm in the process of creating and why this is so important to me. As an entrepreneur this kind of support and clarity is invaluable."
- Will Hassinger, Stainless Steel Engineer & Sculptor, Wilbilt Inc., Mill Valley, CA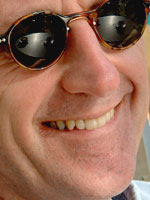 "My SHIFT-IT Process was an enlightening and moving experience. Visual Coaching is a very powerful tool. I now have a much clearer concept of my goals and my plan on how to achieve them"
- Alan Pasemko, President, Theme Management Group, Victoria, B.C.
"Christina's ability to create a relaxed and healing space to access my thoughts and feelings was monumental. I am grateful for her helping me to see my Big Picture".
- Magdalena Blatchford, Owner, Olympic Inspiration Healing Therapy, Victoria, B.C.
"Christina's non-biased approach allowed me to review my life and define reachable, step-by-step goals … which we are continuing to break down into even more doable steps each week on our coaching calls. I wish I had gone through a SHIFT-IT Retreat a long time ago! I really enjoy her listening, the one-to-one attention, and that we got to work down on the beach for part of my retreat!"
- Anyck Turgeon, Oracle, Redwood Shores, CA
"Working visually motivates participants to think outside of the box and actually 'see' their discussion. Brings things to life; allows the group to more easily wrap their arms around it … they can see it, talk about it, change it, add to it and then see it again. Very powerful tool!"
- Sheera Rosenfeld, Health Technology Center, San Francisco, CA
"I've witnessed Christina Merkley in over a dozen strategy, training and project management venues. Her background in business, strategic visioning, and organizational development gives her critical insight into business and strategy linkages that would be very difficult for most people to grasp, let alone represent visually. Her work allows participants to grasp relationships of information that are impossible to communicate in traditional written reports."
- Jeannie Patton, CEO, Utah Association of CPAs and Past Project Director, National CPA Vision Project
"The BBC has employed Ms Merkley in London because she is quite simply the only person I know who has the ability to record discussions using the visual process she has perfected. She has an extraordinary ability to capture the sentiment and dialogue of a group."
- Bob Nelson, formerly Head of Organisation & Management Development, British Broadcasting Corporation, London
"I've worked with Christina on over a dozen consulting and change management projects since '97. She's exceptional … reactions to her work have ranged from happily impressed to outright awe. On a particularly high-level e-business strategy workshop for a Fortune 20 client, a member of the Dow-30, the executives' collective opinion was that her abilities "allowed us to see things we'd been trying to see for weeks."
- Ken Weitzel, Managing Director, Future Foundry, LLC (former Principal, National Organizational Change Practice, CSC Consulting Group, a unit of Computer Sciences Corporation)
"Christina's talents for reading a group's energy and utilizing her range of tools and models to help create insight and growth are awesome. She is one of those unique facilitators that can help you see things you haven't seen before without you even knowing its happening. Her work visually, creatively and intellectually is first class. I would work with her anytime, anywhere."
- Gordon Rudow, CEO, Bonfire Communications, San Francisco, CA
"An innovative and creative way to 'extract' ideas and concepts – meeting productivity is increased substantially by incorporating Christina's visual facilitation skills. I've worked with Christina on a couple of facilitation workshops; the meeting outcomes and results were excellent. The visual approach is fun, leading to a relaxed atmosphere right from the start. The advance prep and follow-up deliverables were second to none – fantastic! Gives the content a life well after the meeting."
- Brad Babcook, formerly Internal Consultant, Strategic Customer & Supplier Management, British Columbia Buildings Corporation

"Christina is truly a gifted facilitator; intelligent, talented and her spirit is so gentle. Her time has come of age … I believe her process of coaching/facilitating/recording others to awareness and success in their personal/professional realms is a cutting edge learning opportunity!"
- Cathy McKenzie, Faculty, Royal Roads University, Leadership & Training MA Program, Victoria, BC
"I brought Christina in to visually record a circle dialogue I was leading with emergency room nurses. Visual facilitation is a great way to visually capture what participants are saying: both verbally and non-verbally – it captures and validates the true emotion of what is being voiced. Not only did the visuals confirm what was really being said, but they created a tangible image of it – helping others see the bigger picture of the problem being discussed – a first step in finding solutions to complex conflicts."
- Jane Grant MA, Nursing Instructor, University of Victoria / Camosun College, Victoria BC
"Christina's skills as a visual facilitator are first-rate as is her internal compass as a consultant. When a deal is really important, you don't want the junior law associate, you want a partner with real experience – the same thing with strategic facilitation. Christina is a real pro who invariably raises the level of creativity and focus when she is in the room. I have the highest regard for the work she performed internally at Digital 4Sight as well as in partnership with us for our clients such as Diageo, HP and IBM."
- Phil Hood, former CEO of Digital 4Sight, Toronto, now Partner, Transcend Strategy Group, San Jose, CA (author of forthcoming book, Solving Problems 2×2: Dialectics for the Real World).
"Christina's style is such that her depiction is the star, rather than herself. She accomplished staying personally 'invisible' though still friendly and accessible when approached. Wonderfully responsive to the group – great humor in the depictions and easy to follow. A terrific partner in our work!"
- Jane Roxbury, Forum for Regional Associations of Grantmakers, Washington, D.C.
"Christina's got presence, professional grace, and the artistic touch of a natural. She is a superstar!"
- Jim Channon, Arcturus, Adventures in Social Architecture, Hawaii
"My company provides consultation to companies and human service organizations in Europe. I've worked with and known of Christina Merkley for years now. She's a person of immense talent, extraordinary ability and is one of the top visual recorders in North America and Europe. She is also a very nice person!"
- Don Braisby, Braisby & Associates, North Wales
"Since meeting her in 1997 I have often referred my clients to her, something I only do with a very small circle of highly trusted individuals. She consistently exhibits a special sense of teamwork, commitment, creativity and intelligence and has exceptional visual recording and artistic talent. Christina's unique combination of personal integrity and professionalism make her a great asset to our specialized industry."
- Leslie Salmon-Zhu, Visual Recorder & Originator/Host, Annual Conference of Visual Practitioners