I had a Distance Session client earlier this week … a follow-up with a woman who took my Fundamentals of Interactive-Visuals course last season. She's doing phenomenal … weaving the visual way of working into her current work and also strategizing a 6-month transition plan to launch into an independent practice.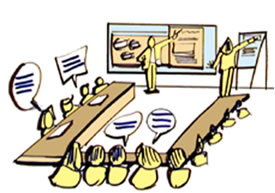 In the course of the coaching session we covered a lot of territory … gave feedback on various graphic facilitation work she's done, reviewed a preliminary marketing piece, talked about her geographical area to help her network with other practitioners there and ideas about business development (she'll be semi-retired so a part-time $50k practice is her vision). This woman is solid, she'll do it.
As solid as she is, it was my pleasure to witness a common "Orphan" pop up … one that many of my clients have and one I also have the pleasure of interacting with in my own life. And to do a little "Orphan Rescue" on this fragmented aspect.
Definition of 'Orphan':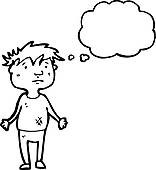 Sooooo, for those who may not be familiar with the 'Orphan' terminology, let me back up a bit. Orphan Rescue is one of my favorite Inner Work processes … as its deliciously vulnerable and the shifts that happen as a result are very palpable.   As a practical coach who loves results I collect various processes that work, and Orphan Rescue (aka Soul Retrieval or Soul Integration) is a keeper. I don't do it with every client I work with, but it's in my back pocket for when needed.
An Orphan is an aspect of our self who shows itself when we get emotionally charged or triggered by something in our present day life. In this case the thing that triggered her was 'self employment'. With a little digging we identified her wonderful 23-year-old self as the culprit. Turns out she had a self-employed stint back at this age, and while it was fun it was also hectic and insecure. And this part of her was getting activated when she contemplated going out on her own again in her early 50s.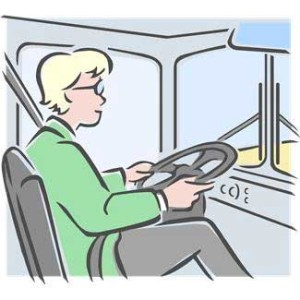 The trick to Orphan Rescue is to tease out our different states of consciousness … so we can become aware of who is running the show, and ultimately get the most mature and grounded aspect of our consciousness into the drivers seat.   And to help heal the less developed fragments through listening, interacting, education and ultimately integrating. Integration is a great word … one that comes from my past associations with The THEO Group and their Soul Integration Process.
The Orphan Rescue in this case was relatively straight forward … just a matter of bringing the 23 year old's experience up into the light of day and allowing the 52 year old to soothe and comfort her. To speak to the fact that her life circumstances are very different now and that self-employment will be a much more pleasant and engaging experience … not something that will strike to the heart of survival and fight/flight instincts.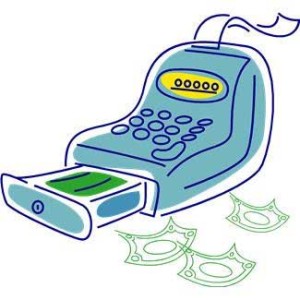 This Orphan Rescue reminded me of a series of rescues I did on my own Orphans recently. Summer is a mixed time for me. I LOVE having the time off (cause I work my butt off from Sept-Xmas and January-June so NEED the rejuice time). However because I'm not working it creates a cash flow problem … which triggers the heck out of me. I'm in the process of 'productizing' my foundational classes to create passive income steams to add to my cash flow. So I can have breaks without my survival stuff being triggered.
Freak outs are very handy though, as they show us where we still have Inner Work to do. The triggering due to my cash flow lead me to three Orphans who needed some long overdue attention, nurturing and integration: my 18 year old self, my 26 year old self and my 34 year old self. All of these Orphans were related to times in my life where I was freaked out about cash flow. At 18 I left home and really had no clue about how to survive (I started out as a waitress dependent on tips). At 26 I left Canada to go to grad school in the United States (back when converting Canadian into U.S. was at a 50% loss … not fun). Then at 34 I returned home to Canada bringing Graphic Facilitation with me and starting my forays into Visual Coaching and SHIFT-IT.
After attending to my Orphans (see additional blog posts below for details on how) I felt WAY BETTER and with the triggered emotions aside could return to the task at hand of creating products … putting one foot in front of the other to create the greater stability and platform I seek.
The Multi-Dimensional Level:
For the spiritual folks on my list, you will appreciate that our Orphans aren't just limited to emotional events in this life … there are multi-dimensional aspects that pop up pretty regularly in my client base as well. Memories or flavors from the collective unconscious that play a role in our current situation.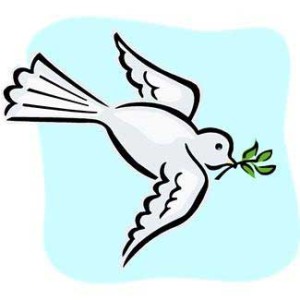 Take for instance the recent BodyTalk client of mine, also contemplating her shift into self-employment, who was reminded of a reoccurring remembrance where her previous role as a healer was cut short through devious means.
We integrated this aspect of herself into her now life, becoming a much cherished ally and colleague. Finally being able to express her gifts without fear of threat and retaliation.   Just another fascinating example of the resistance that can rise up when contemplating a life of service and help.
ADDITIONAL ORPHAN RESCUE POSTS:
I've written numerous times in The SHIFT-IT eZine about Orphan Rescue. Click links below for past posts containing further information and resources.
TRIGGERED? COULD BE AN ORPHAN CALLING OUT
ORPHAN RESCUE INSTRUCTIONS PART ONE
ORPHAN RESCUE INSTRUCTIONS PART TWO
ORPHAN RESCUE AND RESOLVE DEVELOPMENTAL DELAYS
P.S. Private Coaching (In-Person or via Distance Session by Web Conference). Intrigued by Orphan Rescue?! Need help to draw your Vision and erase your resistance? The Orphan Rescue process is just one of many innovative tools in my coaching toolkit. Let's create a strong alliance to get you want you next want in work and/or life! Click here for options.
---