Hannah's given me her permission to blog her biz and website launch … which I've been coaching her on. She's been a client for a few years now (starting with SHIFT-IT Online, then progressing into Visual Coach Certification and Magic Marker Retreats). She came pre-loaded with visual skills, given she was already a fine artist and Graphic Recorder when she first found me.
Please join me in congratulating Hannah on her segue to full time Graphic Recorder! Based on the East Coast of United States, she's in the Maryland/Washington D.C. area – is available for both studio work (she does AWESOME studio murals) plus travel for Graphic Recording gigs.
---
Official Launch of Hannah Sanford Studios!
Greetings and Salutations,
I'm delighted to announce that
And you'll now find me happily immersed in the adventure and excitement of being a VISUAL PROCESS PROFESSIONAL full time, woo hoo!
Of course, it wouldn't have happened without YOUR on-going SUPPORT and PATRONAGE over the past several years.
So, please accept a gigantic THANK YOU for being there in the past, and know that I very much look forward to working with you again in the future …
Without further ado, I'm excited to share with you what I've been creating. Check it all out at my brand new website:
There you'll find lots of colorful examples and info
about my 5 areas of expertise:
GRAPHIC RECORDING
While you or your keynote speaker talks, I capture your key points in words and pictures real-time on a large, 4ft x 8ft wall mural. Graphic Recording is a highly effective technique to document meetings, conferences, workshops and seminars. Participants get to hear you speak and see it unfold on the mural at the same time, which means they get it faster and retain it longer…and have an awesome take-home visual to share with their friends and colleagues!
Surf over to my Portfolio for lots of fun and informative Graphic Recordings, and learn more about the benefits of Graphic Recording too. Meanwhile, here's an example from a recent leadership workshop: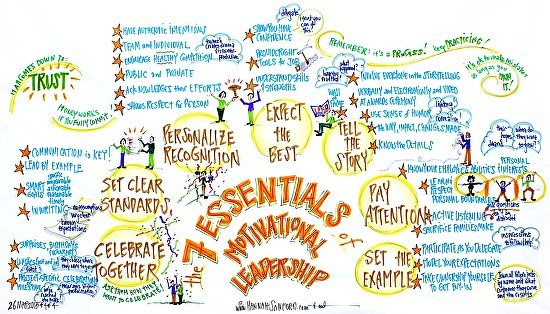 GRAPHIC FACILITATION
In this unique facilitation method, I use powerful visual templates to help lead people and groups through any process.
Graphic Facilitation has many business applications (such as integration during corporate mergers, annual strategic visioning, team performance processes, culture changes, etc.) resulting in clarity and collaboration amongst all, which in turn naturally results in greater productivity and higher individual and team performance. In my Graphic Facilitation webpage you can find out more, plus see plenty of murals.
Here's a Corporate Vision Map I created for two merging companies: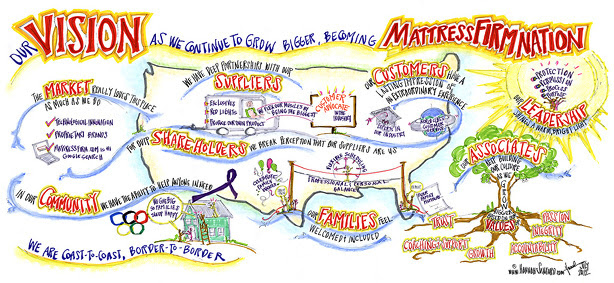 Graphic Facilitation also a wonderful way to celebrate personal life events (such as weddings, retirements, anniversaries, memorial services, etc.). Throughout the event, your guests come up and help me create the mural: as they share their stories I illustrate them right into the mural. See my Portfolio for an example of a beautiful wedding mural!
GRAPHIC COACHING
When you've reached a level of dissatisfaction, or even outright frustration, with some area of your life, I can help you get clear about what you really want, and support you in manifesting that in your life with velocity.
Using interactive visual templates, I guide you thru a past, present, future based process that helps you identify and break through your limiting beliefs, create a clear picture of where you are going, and clear action plan to bridge the gap.
My use of visual templates through the entire coaching process allows you to literally SEE where you've been, where you are now, and what you want next, all on the same page!
Go to my website to see how you can benefit from Graphic Coaching and start living the life you've imagined for yourself!
STUDIO MURALS
I love to create in-studio summary murals of your key data or presentations from your slides or reports. You send me your info, which I organize into a large graphic mural, and you get back the original 4ft x 8ft mural to hang at your presentation, plus the digitized version which you can print on all kinds of give-aways, such as flyers, posters, t-shirts, etc.
See more info about Studio Murals on my site, plus plenty more mural samples in my Portfolio.
Here's a Studio Mural that I created for the Illinois handbook on Good Governance: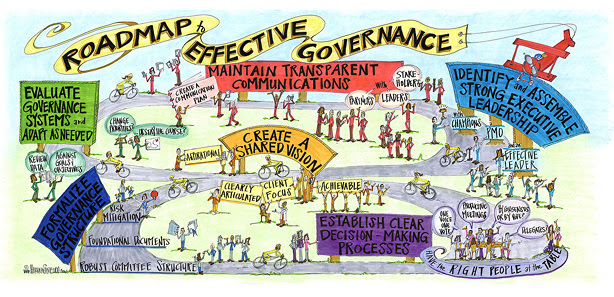 Ok, enough about me… I'd love to hear what YOU have been up to too, so definitely connect in whatever mode of communication works best for you!!
Cheers,
Hannah
P.S. Are you a past or current client who's got some news?! Happy to help you get the word out via my blog too, just drop my assistant a line at admin@shift-it-coach.com.
---