Having a lot of fun seeing who our cohort for the upcoming Magic Marker Mastermind is shaking out to be. Six applications are in and six more are in the process of being attracted (perhaps you!?).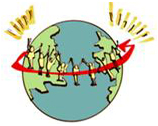 So far applicants are from U.S., Canada and U.K. with a myriad of visual interests.
They appreciate that Interactive-Visuals is a unique, niche skill that is challenging to get expert mentoring and support in (especially for practitioners who have progressed beyond the beginning basics).
Several have put forth their applications to join the Mastermind in order to increase their proficiency in Visual Scribing and Visual Facilitation (build icon repertoire, add more originality and movement/energy/flow, enhance formatting techniques and take more 'risks' at the wall rather than play it safe).
A couple are Visual Coaches (one already Certified and another about to begin) who love using Interactive-Visuals techniques and desire a supportive and informed community to add to their skills and build their practices.


Others have unique intellectual property (based on years of working in their own niches) … that they want to develop their own Signature Visual Systems for (like what I have done with my SHIFT-IT Visual Coaching System®).
All in all I'm delighted with the quality and blend of Visual Practitioners who are applying and am REALLY EXCITED about the rocket fuel this group is shaping up to be.

There is nothing like a Mastermind to get us focused and in the energy of what we desire (in this case … fun, excellence and growth in the visual way of working).  Plus this is SUCH a unique offering — I've done wonderful masterminds before but not one that specifically brings Visual Practitioners together for their next round of growth.

It's going to be supremely productive, results-oriented and FUN.

MORE DETAILS:

THE MAGIC MARKER MASTERMIND
4-Month Intensive for Visual Practitioners
March 5 – July 2, 2012 (weekly webinars plus 2 day retreat)
6 spots left – deadline to apply is Feb. 24th

You can find all the details, including info on the online application process here: http://www.visualcoaches.com/training/magic-marker-mastermind/


The Magic Marker Mastermind includes weekly mastermind sessions (all recorded), forum for visual uploads, private coaching (with yours truly), plus in-person finale retreat in beautiful Victoria, British Columbia, Canada (visually facilitated of course!).

Get connected with your visual tribe!

Looking forward to seeing whom those last seats belong to and our cohort fully revealing itself. If you are feeling called, listen to that softly whispering (or loudly shouting) voice inside and get your application in now! Remember, this experience is for Visual Practitioners who already have their base training (either my Fundamentals of Interactive-Visuals or approved equivalency). It's an intermediate offering, not for total beginners. I look forward to your application interview and reviewing your goals, intentions and visual examples. And having you join us for a power packed four months!

Yours in visual expansion,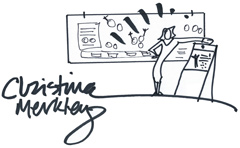 Christina Merkley
The SHIFT-IT Coach
& Interactive-Visuals Mentor
P.S. Interested in Interactive-Visuals (visual scribing, visual facilitation or visual coaching) but don't have basic training yet? There are 7 spots left in my upcoming May 3-5 training (the only public in-person training I offer this year). Early bird still in effect. Or, check out my private or in-house offerings.
P.P.S. Shy about working in a group? Would rather get individual attention? Can't travel? See private tele-coaching for returning clients (some availability for 2012).
---