FUNDAMENTALS OF INTERACTIVE-VISUALS
18 Online Webinars: Monday & Wednesday, Oct. 15 – Dec. 18, 2012, noon-1pm PST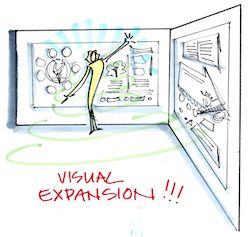 Fundamentals of Interactive-Visuals is geared for process professionals who wish to add the power of working visually to their own client work and content (consultants, trainers, authors/speakers, facilitators, coaches, therapists, educators, scribes/graphic recorders, etc). With an emphasis on PROCESS (not wowie but irrelevant flourish) we cover the full spectrum of visual applications (custom chart work, recording, visual facilitation and visual coaching) and how you can quickly integrate the visual medium into your own toolkit.
Attraction to image, color and creativity but no artistic training or ability required. Anyone can learn to use visuals to assist their process or content work!
BASIC OVERVIEW:
*** Learn the historical story of the interactive-visuals field and what the four main applications are (so you can decide which suits you and your practice best);
*** Hear what the needed and best supplies are and where to source them;
*** Receive icon libraries, visual resources and step-by-step directions on how to integrate visuals into your own practice (no matter where on the visual spectrum you fall … no, you DO NOT need to be an artist to use Interactive-Visuals techniques);
*** Get precise, gentle, connect-the-dots instruction on how to 'draw' … I sneak it up on you so get beyond any 'art phobia', fear or comparison problems you might have about your creative abilities (this work is really about PROCESS not art);
*** See varied examples and hear detailed explanations of real client work (culled from two decades of working nationally, internationally and digitally with corporate, not-for-profit, governmental and individual populations);
*** Practice your new skills and receive detailed feedback (the online experience enables us to create a real learning lab over 9 weeks … post your work and witness the work and feedback others receive too – very valuable!);
*** Receive supportive coaching on which steps to take to build or enhance your visual recording, visual facilitation and/or visual coaching career (I've successfully mentored hundreds of people from around the world and YOU CAN do this work too … just put one foot (or hand!) in front of the other!
*** Connect with individuals from diverse backgrounds and locations also interested in this visual niche — your global visual tribe! (private online forum where you virtually meet one another, upload your work, share tips, resources, etc).
FOR FULL DETAILS AND ONLINE REGISTRATION:
http://www.visualcoaches.com/training/fundamentals/
VISUAL COACH CERTIFICATION PRE-REQUISITE:
This program is a pre-requisite for
Visual Coach Certification® (if you are interested in being accepted into the 2013 cohort and do not want to travel to Victoria, BC, Canada it is your ONLY way this year to secure the pre-requisite without travel).
I look forward to assisting you with your visual and personal expansion!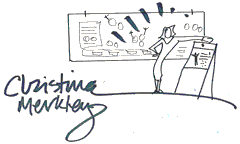 Christina Merkley
The SHIFT-IT Coach
and Interactive-Visuals Mentor
P.S. Already have basic instruction in visual facilitation? Ready for immediate/advanced mentoring? FYI, 6-month Magic Marker Mastermind now accepting applications.
P.P.S.
For a full overview of 2012-13 courses, see: https://www.shift-it-coach.com/courses/.
---