SHIFT-IT Online kicks off in just a few hours. This 7-week online coaching program is for people who are ready to Become Your Next Self … in whatever area or combo of areas you want to SHIFT (right livelihood/business, prosperity, relationship, body, fulfillment, etc).
Perfect if you are at a natural life crossroads or transition period (business blahs, significant birthday, separation/divorce, new union, empty nest, ready for your next expansion, craving more creativity or authenticity, etc.
SHIFT-IT Online
7 Webinars: Saturdays September 20-Nov. 1
(11 mountain, 12 central, 1pm eastern,
Europe (evenings), AustralAsia (early morning)
see wwwtimeconverter.com for your zone)
* All Sessions Video & Audio Recorded for Easy Review
If You Miss a Class or Class Times Are Inconvenient for You
FYI, last minute joiners are totally welcome. Just click link below for Full Details plus Instant Online Registration (you'll automatically be sent all the info you need to smoothly join us for our 10am pacific start).
Full Details and Easy Online Registration
A Note About the Visuals: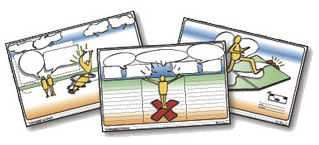 FYI, you DO NOT need to be an artist to partake in Visual Coaching (the drawing is done for you … if you ARE an artist, then you can weave in your own artistic flair to the maps provided).
Brain researchers share that over 87% of people are Visual Thinkers (meaning they learn and retain info best when visual means are used). That's why we use a visual approach — plus, I'm a doodler from way back (ask my high school math teacher!) … its fun!
Our classes attract wonderful, supportive, creative leaning folks from all over the world. A truly safe place to explore what is up for you now in your professional and/or personal life … and to manifest what you next desire.
Full Details and Easy Online Registration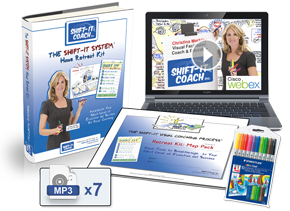 FULLY RECORDED
All sessions are recorded … so you can access any you miss or participate via the recordings and class forum if you are in a geography where its awkward to join us at the live time.
Plus, the 17 'Visual Coaching' maps that form the foundation of this program are immediately available upon registration … so you can get crackin' on your SHIFT right away.
If SHIFT-IT feels like a match for you, I look forward to beginning our coaching alliance in just a few hours!
Yours in visual expansion,

P.S. Online group doesn't seem right for you? Consider private coaching with a Certified Visual Coach®, or alternatively, work through The SHIFT-IT Home Retreat Kit by yourself at your own pace.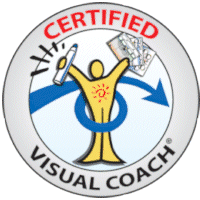 P.P.S. You certainly don't have to be a Coach or other Process Professional to participate in this class … however, if you are, check out Visual Coach Certification (SHIFT-IT Online is one of two required pre-requisites).
Our next cohort is April 2015.
P.P.P.S. For a full list of our 2014-15 courses, including the upcoming Fundamentals of Interactive-Visuals (Online Version) and Magic Marker Retreat (in Victoria, British Columbia), Click Here.
---