Learn Visual Skills for Process Work with Groups and Individuals …
At Home And At Your Own Pace Via My New Home Study Kit
BIRTH ANNOUNCEMENT:
New Home Study Version of
FUNDAMENTALS OF
INTERACTIVE-VISUALS
Now Available!!!
Launch Special for Next 5 Days:
Dec. 11-Dec. 15th Only
For New and Seasoned
Process Professionals:
Consultants,Facilitators, Trainers,
Speakers, Coaches, Therapists,
Counselors and Bodyworkers, etc.
And for Artists, Illustrators ,
Designers and Other Creatives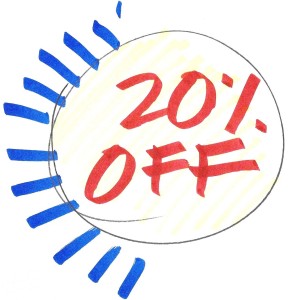 Well, we've had a note on my website for a year that this Home Study Version of my Fundamentals of Interactive-Visuals workshop would be coming, and I'm happy to announce that it's finally here … the stork delivered it this morning!
To celebrate the launch of this highly anticipated Home Study Kit I'm listing it at a Special Launch Rate for the next five days: Dec. 11 – 15th — to reward those of you who have so patiently been waiting for it!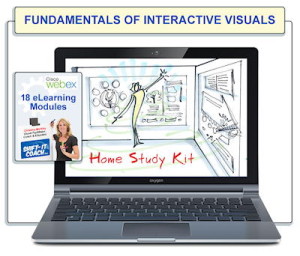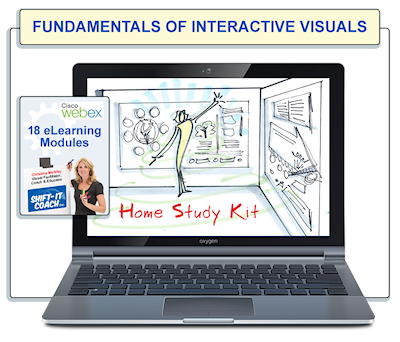 This new 18-Module Home Study Course is the exact material that students in my live courses receive. It's comprised of 18 webinar recordings … plus demo videos, an extensive handbook filled with portfolios, icon libraries, oodles of examples and resources … plus a TON of useful bonuses.
Get the Basic Kit, or GO DELUXE to add 3 Private Mentoring Sessions with yours truly for feedback and implementation coaching.
FULL DETAILS AND INSTANT ACCESS
Included In This NEW Home Study Kit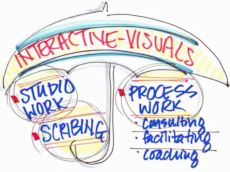 "Interactive-Visuals" is the umbrella term I use to sum up the four main ways of working visually with groups and individuals:
Studio Work
Graphic Recording
Graphic Coaching /Therapy
The 18 Modules Cover The Four Main Ways of Working Visually … Plus Everything Else You Need to Effectively Add Visuals to Your Process Toolkit:
18 Module Curriculum:
1. KICK OFF 2. CONTEXT & DEFINITIONS
3. MORE DEFINITIONS & BENEFITS
4A. SPACE, SUPPLIES & CREATE YOUR STUDIO
4B. HANGING PAPER, GRAPHIC AEROBICS & LETTERING
5. ZEN OF ICONS
6. FORMATS & YOUR FIRST STUDIO PIECE
7. FEEDBACK
8. VISUAL RECORDING (visual note taking)
9. FEEDBACK
10. VISUAL FACILITATION (process work with groups)
11. FEEDBACK
12. VISUAL COACHING / THERAPY (process work with individuals)
13. CHRISTINA'S COACHING JOURNEY & SHIFT-IT
14. PHOTO MANAGEMENT, DOCUMENTATION & REPORTS
15. MONEY, MARKETING & BIZ DEVELOPMENT
16. MINDEST AND RESISTANCE BUSTERS
17. NEXT STEPS AND GAME PLAN
18. CLASS CLOSURE AND IMPLEMENTATION COACHING
FULL DETAILS AND INSTANT ACCESS
For those that are a match to this opportunity at this time, I look forward to coaching you to add the power of Interactive-Visuals to your Process Based Business!
Even if you aren't quite ready to dive into this skill (the holiday season is fast approaching after all), I invite you to nab this POWERFUL HOME STUDY Kit now (at the special launch rate) so you have everything you need for when you can grab a marker!
Yours in visual expansion,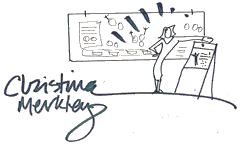 P.S. Don't have the discipline to work at home alone? Would rather participate in a live training? Next online version of Fundamentals of Interactive-Visuals runs Feb. 23 – April 29, 2015. Or join us in-person in beautiful Victoria, British Columbia on June 4-6, 2015. Details Here.
P.P.S. Already have your fundamentals? See Magic Marker Retreats, Private Trainings & Apprenticeships and Private Distance Mentoring for intermediate and advanced instruction.
P.P.P.S. To view our FULL COURSE CURRICULUM including OTHER HELPFUL HOME STUDY KITS, click here.