There are special times in life when it's helpful to step back and LOOK at where you are … and DECIDE where you next want to be. Transitional times, when you begin or end a certain phase of life, like:
School or stints of training;
Career and job shifts;
Kids growing or leaving the nest;
Significant birthdays (especially the ones that end in 0);
Relationship shifts (moving in, marriage, separation or divorce);
Connection repairs (searches, reunions, improvements);
Health, body and age factors;
Loss of friends, family and partners;
Shifting gears or retirement;
And, when your soul just yearns for something different …
These kinds of crossroads are PERFECT for gifting yourself SHIFT-IT Online … our 7-week online coaching group to gain clarity and aligned action about your life.
SHIFT-IT ONLINE
7 Weekly Live Webinars:
Feb. 6 – March 19, 2016 (Fully Recorded)
 Saturdays, 10-11:30 a.m. Pacific
(11 Mountain, 12 Central, 1 Eastern, Europe: Evenings, Austral/Asia: Early Morn)

Cohort Finalizing NOW: We Start on Saturday, This Upcoming Weekend!
CLICK HERE FOR FULL DETAILS AND EASY ONLINE REGISTRATION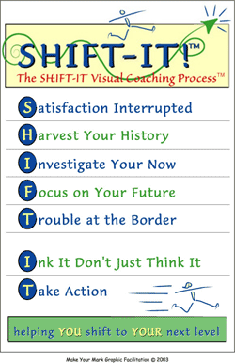 I've led SHIFT-IT experiences for 13 years now … helping to pioneer the growing niche of Visual Coaching. What began as special huddles in my living room have morphed to a global living room … where folks from around the globe (using easy webinar technology) gather to go deep within and support each other in the process.
You can keep things private or be as open as you like. This special experience allows you to see your past, present and desired future. To identity and bust through limiting thinking. And to organize yourself into a clear action plan.  Yes, it's visual — we use 14 Visual Maps over the course of the program.  However, underneath … it's all about FEELING and ENERGY. Helping you figure out what FEELs best to YOU at this special time in your life and aligning with it.  When you do, it's the energy that moves worlds!

Here's what a few past attendees have to say
I CREDIT SHIFT-IT ONLINE WITH THE INITIATION OF THIS
TRANSFORMATION IN MY LIFE AND RESET OF MY SPIRITUAL PATH
"I want to say a huge thank you. I took your winter 2013 SHIFT-IT Online, during a challenging time in my career and life. It was exactly the experience I needed to get clearer about the life I desire, learn tools to create and attract what I want, and build a reservoir of inner resilience and joy.
Two years later, I'm now Deputy Director at a nonprofit with a mission I care about deeply, working with a dear and like-minded friend and mentor, and I teach yoga in my "free" time. I have more energy and time to enjoy myself, my family, my husband, and my friends.
Some of these changes were immediate, some have evolved over the last two years, but I credit SHIFT-IT Online with the initiation of this transformation in my life and reset of my spiritual path.
I hope to one day be able to share these tools with others by becoming one of your Certified Visual Coaches! So, many, many thanks to you for creating and sharing this awesome program."
Caitlin Ellsworth
Non-Profit Deputy Director
Washington, D.C. U.S.A.
I'VE EMPLOYED CHRISTINA MERKLEY AS MY COACH ON-AND-OFF
SINCE 1998.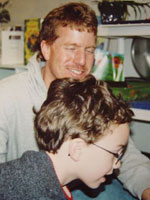 "Six months after she led me through a vision exercise where I imagined myself on the cover of a magazine, the real thing happened when I made it into Java World. Since then I've been covered in MIT Tech Review, The NY Times, Popular Science, and Motor Magazine and was nominated for a 2003 Corporate Award sponsored by the World Tech Network. Yeah, you could call this work effective! Now I'm working with her again to take it up to the next level."
Tim Clark
VP of Engineering / Director of R & D, VTTI
San Francisco, CA
P.S. In 2014, after another round of SHIFT-IT coaching, Tim and his partner John launched runScribe … opening with a successful Kickstarter campaign that raised 5Xs their original seed goal and garnered volumes of industry press.
I CONSIDER SHIFT-IT A TIMELESS TREASURE, A GIFT TO
MYSELF ON THE WAY TO BECOMING MY NEXT SELF.
"My goal is to become a Certified Visual Coach® and part of certification is to experience The SHIFT-IT Visual Coaching System® as an individual from the inside-out. Because I am a Process Professional, have coached for several years and regularly spend quality time on self-reflection, I didn't expect any "new" information to emerge.
I was incorrect. Christina has created a process for deep, personal self-reflection while facilitating a safe space for an on-line community of kindred spirits to hold conversations that matter.
My greatest ah-ha dealt with 'focusing'. You cannot desire something, predominantly focus on the absence of it; then expect to receive it. Yet, that was my re-occurring practice, in both my personal and professional life. Now when those thoughts come up, I immediately recognize the ensuing feelings; then stop and re-direct my thoughts to focus on what I do want and desire in my life.
Thanks to Christina's work with the Law of Attraction, I also re-learned the concept of deliberate creation and the essence of allowing. I may think it but now know that I must also expect it by allowing it into my life. The it being whatever I want/desire in my life."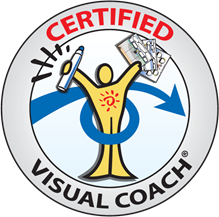 As Karen mentioned, SHIFT-IT is a pre-requisite for Visual Coach Certification … for coaches, therapists and other professionals who want to use this powerful process and maps with your own clientele.  This is the LAST CHANCE to attend SHIFT-IT before Certification 2016 starts in April.  So get your pre-requisite now!

SHIFT-IT ONLINE
7 Weekly Live Webinars:
Feb. 6 – March 19, 2016 (Fully Recorded)
 Saturdays, 10-11:30 a.m. Pacific
(11 Mountain, 12 Central, 1 Eastern, Europe: Evenings, Austral/Asia: Early Morn)

Cohort Finalizing NOW: We Start on Saturday, This Upcoming Weekend!
CLICK HERE FOR FULL DETAILS AND EASY ONLINE REGISTRATION
Looking forward to another fabulous round of SHIFT-IT! See you online on Saturday the 7th!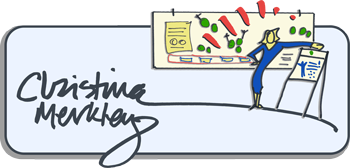 P.S. Dates don't work for you?  This program is fully recorded, so if you can't make all the dates live, don't worry, you can easily follow along via the recordings (available in both video and mp3).  Alternatively, see The SHIFT-IT Home Retreat Kit for a solo option you can complete at your own pace.
P.P.S. Have you done SHIFT-IT before? Ready for your next round of manifestations?  Come as my guest, via the REPEATER OPTION (just write us for the coupon code to use when registering online).
P.P.P.S. Are you on my list because of an interest in working visually?  FYI, this season we have two upcoming Fundamentals of Working Visually classes (online and in-person).  Home Study Kit also available: Click here.
P.P.P.P.S.  For a full roster of 2016 classes, products and private coaching and training click here.