End of summer here in North America. I adore summer …
I prefer to take all of August off. Since Covid began, I haven't really been able to do that. So, it was a partial month off at least, which was still pretty good.
We have a glorious woodsy backyard, with various hangouts, depending on what the sun is doing and what kind of temperature I feel like.
With a large extension cord for my laptop, I set Presley and myself up in an outdoor office. Tackling the emails. Providing coaching and inquiry sessions. Also doodling my own Self Inquires in a big notebook to keep myself sane (processing diverse types of people and beliefs during these intense times isn't always easy).
Also quite a bit of supervision of my Visual-Coaches-in-Training (several are coming up on their Final Exam). A big thank you to all of the volunteers who have acted as Test Clients lately. We sooooo appreciate your support of the emerging field of Visual Coaching!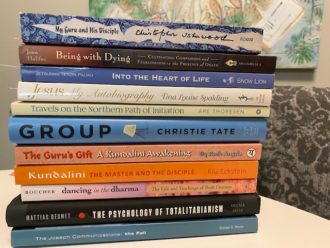 Something I've been able to thankfully do more of lately, is read.
I am a bit of a bookaholic. I buy books knowing there will eventually come a time that I am meant to read them.
This is my reading stack from the last while.
When I call boundaries on work, and head to my little off-grid reading nook. My hermitage.
Ahhhhhhhh, so satisfying to dig in. Read about fascinating lives, deep spirituality, and other topics that I'm drawn to.
As I often get asked what I'm reading, here's a brief list of this summer's stack:
As my summer and reading glut comes to a taper, my focus turns to my Fall trio of upcoming programs: SHIFT-IT Online, Private Visual Satsang and Visual Coach Certification (more details below).
Also below is a big bravo to Cathy Walsh from the UK, for integrating visual skills into Mental Health programs for the NHS – great Grad Spotlight!
Plus, a super brave Self Inquiry video with a dear friend, graciously allowing us to look inside her personal decision-making process.
Yours in SHIFTing IT,


Christina Merkley,
Visual Coaching and Satsangs
www.shift-it-coach.com
---