Audio Version: Click Player to Stream or Right Click on Link to Download. For full Audio Library of Past Messages, Click Here
Download MP3
If the rise in my web traffic and email inquiries over the years is any indication (and I think it is) then appreciation and interest in "Interactive-Visuals" is exponentially rising.
As a senior Graphic Facilitator (my love affair with the visual way of working began in grad school in San Francisco in the mid 90s) … I get all sorts of emails and phone calls from potential clients wanting to book me and/or ask me to recommend quality referrals in their area. As such, I think an article on how to effectively select the right Visual Practitioner is in order (and it'll act as a handy resource to make my client responses easier too!).
WHAT'S IN A NAME:
Susan Kelly, a colleague of mine from back in the day, did a wonderful chart that I use in my Fundamentals of Interactive-Visuals workshop called "What's in a Name". In it she lists the many, many different terms that Visual Practitioners use to describe their work … varying from Graphic Recorder, Visual Scribe, Graphic Facilitator, Visual Facilitator, Visual Synthesis, Corporate Graffiti Artist, Mindmapper, Meeting Doodler and the like! While this diversity is fun and entertaining … it does make it a little challenging for people new to the field (especially new potential clients) to weed through the confusion to find the right professional practitioner to meet their needs.
KNOW YOUR TERMS:
The first thing I do when I receive a new inquiry is to clarify terms. What kind of Visual Practitioner does this client truly need? If they are an individual seeking coaching assistance in a visual way, then they need a Visual Coach. If they are with a group or an organization, then the questioning becomes a little deeper. Do they need a scribe who subtly and quietly takes summary notes off to the side (called a Graphic Recorder or Visual Scribe)? Or do they need a facilitation professional called a Graphic or Visual Facilitator who not only designs an appropriate intervention (based on their process expertise) but also leads it in a visual way (either doing the visuals themselves or working in tandem with their visual team). These are two very different roles … with different skill sets, backgrounds and education.
For a more thorough examination of terms and roles, please see previous article: The Four Ways to Work Visually.
FINDING QUALIFIED PRACTITIONERS
My Preferred Partners Network and Visual Coach Directory: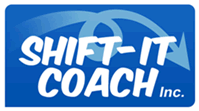 I myself no longer book out on Graphic Recording or Scribing gigs these days as I'm a lead Graphic Facilitator who creates and facilitates strategic planning forums (in addition to the training, mentoring and coaching I do). However, we do have a global Preferred Partners Network of seasoned colleagues and mentees. So, if I'm not available or the right fit, we provide inquiring clients with names of professionals I recommend depending on the specifics of the engagement.

If it's a Visual Coach that is needed, I direct clients to my services and my Directory of Visual Coaches. If it's a Visual Recorder or Visual Facilitator that is needed, I give the names of three professionals in their general region that I feel would be a fit. (FYI, if you are a Visual Practitioner interested in being on my referral list, contact us at admin@shift-it-coach.com to discuss qualifications and terms).
IFVP Directory:


Other great resources for finding Visual Practitioners (although you'll have to sort out the Illustrators & Scribes from the true Visual Facilitators) are a couple of geographical directories. The first is the directory for The International Forum of Visual Practitioners (IFVP). Their newly refreshed site is http://ifvpcommunity.ning.com (although it seems to be missing the handy geographical directory that it used to have).
Neulands Network Area:


The second listing of Visual Practitioners is over on the Neuland company's site. Neuland creates beautiful training and facilitation resources and is increasingly supportive of the Visual Practitioner community. They have a recently launched a "Network" tab to their site, which is beginning to list trainers, facilitators and scribes: http://www.neuland-world.com/US/dialog/index.htm
The Grove Consultants International:


A third place to find Visual Practitioners is via my old stomping grounds, The Grove Consultants International in San Francisco, headed by my earliest visual mentor, David Sibbet. I worked for Grove in late 90s and highly recommend their products and courses (especially The Strategic Visioning Process). See list of associates, partners and consulting colleagues: http://www.grove.com/site/abt_netwrk.html
Peter Durand's Blog:
Finally, colleague Peter Durand (in addition to his WONDERFUL blog) has an eclectic collection of practitioners listed at: http://graphicfacilitation.blogs.com/pages

WHAT TO LOOK FOR:
The volume of folks hanging up a Visual Practitioner shingle has multiplied several times over the last few years as appreciation, interest and respect for the work is going through the roof (even though the work has existed for going on 40 years now!). With all the new entrants, if you are a client its important to test out a few things to make an informed choice. Here are the things I suggest you ask about:
What is the professional's defined role (scribe, facilitator, coach, etc)?
Level and length of experience?
Training and educational background?
Experience with your type of company or content area?
Do they LIKE/ENJOY that type of work?
Portfolio and examples of work ? (styles do vary)
Availability and willingness to travel and requirements?
Availability for exploratory and design calls?
Contracting details (agreements in writing in professional manner)
Back up in case of emergency?
Cancellation or rescheduling policies?
Ability to expand team if necessary (add more scribes, bring in illustrators for custom charts or videos)?
HAVE FUN!
Working visually can be VERY rewarding if you have the right professional for the job — and are using the medium intelligently. While awareness about Interactive-Visuals is growing, it's still a niche field. As such, you have the opportunity to be a pioneer in bringing this effective methodology into your own company, organization or environment and being on the leading edge of doing GREAT meetings and events. May the marker be with you!!!
©2012 Christina L. Merkley
WANT TO USE THIS ARTICLE IN YOUR E-ZINE OR WEB SITE?
You can, as long as you include this blurb and a functional link to my site:
Author's Bio: Christina Merkley "The SHIFT-IT Coach" and creator of the SHIFT-IT System®, is a Visioning and Strategic Planning Expert specializing in Visual Thinking and Law of Attraction techniques. Based in charming Victoria, British Columbia, Canada, she works deeply with individuals, partners and conscious businesses to define and manifest what they truly want. And, trains other helping professionals in her innovative ways of working. For more information visit: www.shift-it-coach.com
---