The sun is shining, the office is hopping and our spring registrations are being snapped up left, right and center … so gratifying to see the visual way of working hitting its stride!
Brain researchers tell us that up to 87% of the population are Visual Learners. As a skilled process professional (consultant, facilitator, trainer, coach, etc) you want methods that help your clients think and make good decisions as effectively as possible. Our suite of Interactive-Visuals trainings do exactly that — depending on your skill and interest level, they equip you to effectively add the power of working visually to your own professional practice.
We have a trio of opportunities to choose from, however spots are now extremely limited (it'll be a year until these are offered again … so act to avoid disappointment and to get the power of visuals working for you):
1. FUNDAMENTALS OF INTERACTIVE-VISUALS®
In-person, May 3-5, 2012, Victoria, British Columbia, Canada
Just 2 Spots Left, Early Bird Ends March 2nd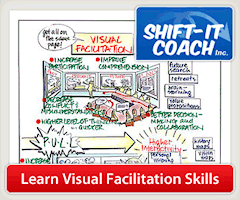 The very best way to learn Interactive-Visuals is in person. Nothing beats the face-to-face interaction and the visceral feel of 'getting in the zone' with the big paper and markers. While this work is visual, its not about art … its about PROCESS. In this fundamental course for beginners, we cover the four main applications of the work (custom chart work, visual recording, visual facilitation and visual coaching … the latter being my area of pioneering work). De-mystifying the work and equipping you to 'hit the ground' running when you return back home. A true crowd pleaser and a wonderful way to meet your Visual Tribe in beautiful British Columbian surroundings.
Full Details and Online Registration
---
2. THE MAGIC MARKER MASTERMIND®
March 5 – July 2, 2012 (online and in-person retreat)
Pre-requisite: Fundamentals of Interactive-Visuals (or demonstrated equivalent experience).

The next level of support for Visual Practitioners — an intensive 4-month skills and business incubator for keeners ready to bust through to their next level of visual lifestyle.
Information architecture, creation of visual tools, advanced formatting and style development, agenda design and shadow consulting for client gigs, specialized marketing and sales techniques … this intimate mastermind provides one-of-a-kind support for Visual Recorders, Visual Facilitators and Visual Coaches. A supportive, professional and accountable environment to keep you weekly in the visual vibe as you manifest your Next Visual Self.
Note: Applications accepted up to second week. We currently have 10 fantastic members, with space for 2 more who are a good fit.
Full details and Online Application.
---
3. VISUAL COACH CERTIFICATION®
April-Dec. 2012 (10 Webinars, plus 24 client hours)
Application Deadline: March 24th (not offered again until April 2013)
Pre-requisites: SHIFT-IT Online Group (or completion of SHIFT-IT via Certified Visual Coach) and Fundamentals of Interactive-Visuals (or demonstrated equivalent experience).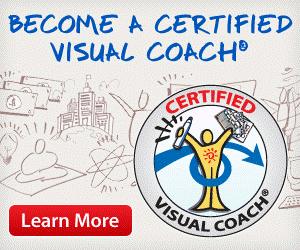 For coaching and counseling professionals – differentiate your personal growth practice with the power of Visual Coaching. Be empowered to use my signature SHIFT-IT System® with 17 visual maps with your own clientele. Plus how to 'template-ize' your own intellectual property into visual processes and tool sets.
Wonderful global cohort committed to social change on the planet, together we advance personal growth work via the visual methodology. Includes detailed marketing and sales support for launching your Visual Coaching practice plus ongoing community with dedicated colleagues.
Looking forward to meeting and training you!
Yours in visual expansion,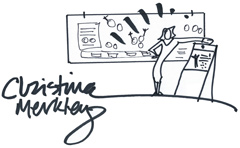 ---