Ready to define and create what you want next?! Right around the corner is SHIFT-IT Online — my supportive 7-Week online course that provides expert life coaching, visual tools, structure and community with like-minded and hearted people from across the globe.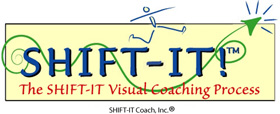 Offered only twice a year this powerful online experience defines and ignites your work and/or life shift. Become Your Next Self — especially poignant during these activating times.
SHIFT-IT Online
7 Webinars: Saturdays September 20-Nov. 1, 10am pacific
(11 mountain, 12 central, 1pm eastern,
Europe (evenings), AustralAsia (early morning)
see wwwtimeconverter.com for your zone)
* All Sessions Video & Audio Recorded for Easy Review
If You Miss a Class or Class Times Are Inconvenient for You
Full Details and Easy Online Registration
This class is specifically designed for those who:
Stand at a professional or personal crossroads, and/or are in transition;
Are ready to make a professional or personal change and have a good idea about what your shift will entail;
Are murky (fully or somewhat) about your desires or are confused, doubtful or anxious about how to accomplish;
Are a Visual Thinker intrigued with creativity, particularly visual and emotional/energy approaches to process work with groups or individuals;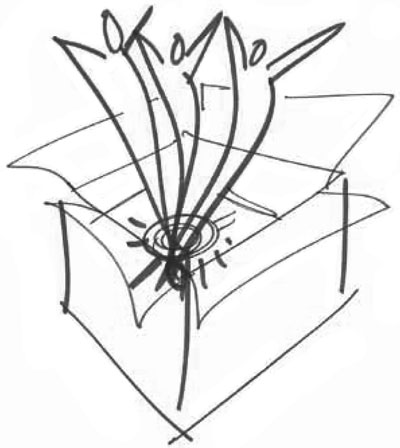 Are a "Cultural Creative" or spiritual person open to understanding why people change (and why they don't) at deep, meta-physical levels;
Have some sort of calling, passion, or purpose pushing at your psyche and want to bust through to manifest your own 'it' in the world.
Are or want to be a Process Professional and/or Content Expert (leaders, managers, consultants, facilitators, trainers, coaches, therapists, visual scribes, authors, artists, speakers, etc. (this course is a pre-requisite for Visual Coach Certification®);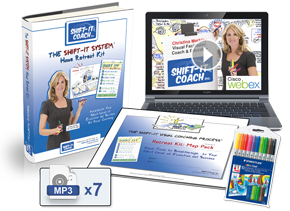 At the heart of SHIFT-IT Online is my signature SHIFT-IT System® — 17 visual maps strategically designed to corral your thoughts, energy and actions … so your life rapidly transforms in the ways YOU want it to.
If you are dissatisfied with your status quo and are ready to breakthrough to a more satisfying life … this program is for you!
Right livelihood, abundance through authentic work, satisfying relationships, weight & body issues, inner confidence — all and more are SHIFTed through this powerful, proven system.
Full Details and Immediate Online Registration:
FULLY ONLINE: PARTICIPATE FROM
COMFORT OF YOUR ENVIRONMENT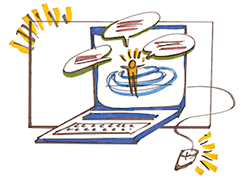 The program is delivered by handy WEB CONFERENCE technology easily accessible from the comfort of your own surroundings. All sessions are video and audio recorded for easy playback should you miss a session, or want to take the course at a more convenient time (its fine to participate by watching the playback sessions and connecting in our private forum if you can't make the live sessions).
We look forward to you joining this international cohort as you SHIFT your life for the better!
Yours in visual expansion,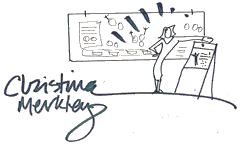 Christina Merkley
The SHIFT-IT Coach & Interactive-Visuals Mentor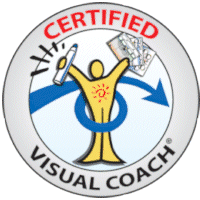 P.S. Handy REPEATER OPTION for those who have previously participated and are ready for your next manifestations.
P.P.S. If you receive our emails because of an interest in working visually — check out our upcoming programs for visual skills: Fundamentals of Interactive-Visuals and Visual Coach Certification.
SHIFT-IT Online is one of two pre-requisites required for acceptance into Certification. The 2015 Visual Coach cohort begins in April (receiving applications now — see Combo Package which includes all 3 courses).
---