As 2015 starts to show her energy, I'm adapting my schedule and making a change to the Magic Marker Retreats.
The Magic Marker Retreats are one of the ways I further connect, support and guide my visual skills clients (or other people with equivalent experience). They are the next step after my base visual skills training: Fundamentals of Interactive-Visuals, which covers the basics about studio work, graphic recording, graphic facilitation and graphic coaching. In short, they are super powerful 2-day learning labs where I and your cohort mates get you to the next level of your process work with groups and/or individuals. Whether its practical skill or business development you need or some inner work that is messing with your ability to manifest what you want.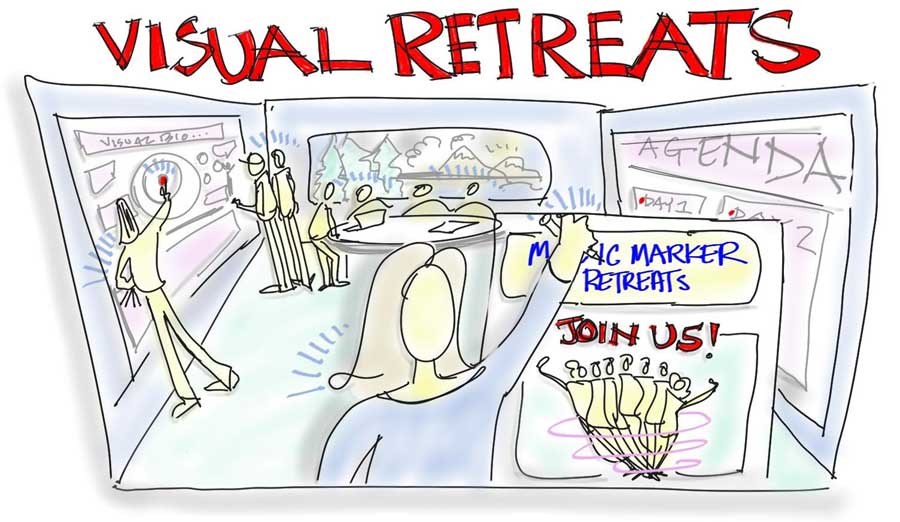 I've run this program in various configurations over the years … and this year I decided to break them into three separate experiences (rather than rolling them into one comprehensive program). We had one in the fall (which was fantastic), I was going to offer one in March, and then there is a final one in June.
Reasons for Cancellation:
I'm canceling the March Retreat because … well, it just doesn't feel right. There is something in my BodyMind that is not connecting with it. Maybe it's a weather thing (March is typically kind of blah here on the west coast, so not great for travelers). Or because there have been musical seats going on with it. Or, maybe, I'm suppose to be doing something different in March, so my intuition is paving the way for me to be available. Whatever it is … I've learned to only go with offerings I really feel fully aligned with so I've decided to pull this one from the roster.
June is a Definite Go, with Four Spaces Left: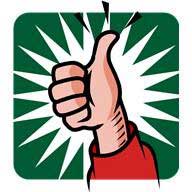 Thankfully I can move some of the March folks to June. So that leaves four remaining spaces for the June Magic Marker Retreat.
June is usually a much better weather season in British Columbia.
In doing private coaching sessions with various clients, I know that some of you have mentioned your interest in June. If your intention is still to come, please nab your space here.
June's Timing is Right After the In-Person Fundamentals:
Plus, this June 8-9 Magic Marker Retreat, is scheduled right after my annual in-person version of the Fundamentals course on June 4-6 … so a handy back-to-back for anyone who wants to get accelerated learning in minimal time.
Will Magic Marker Retreats Be Available in the Future?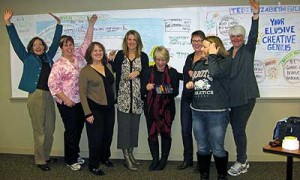 This offering is definitely in flux, as I keep getting the inner guidance to do different things with it each year. I LOVE working with students who I've got up to speed on the basics.
And I REALLY LOVE the spontaneous outer and inner work that happens in these retreats, to quote past attendees 'they are magical'.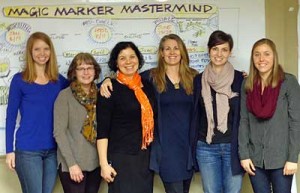 I can say that I like the feel of the back-to-back option with the Fundamentals course. So I think I will do that again next year.
So there will be at least one Magic Marker Retreat in 2016.
Beyond that … I don't know. I'm feeling the pull to do an online offering of some sort for my advanced visual students in perhaps Sept. 2015.  And also get back to my Biz & Life Accelerator (SHIFT-IT on speed) that I've put aside for a while. My last one was back in 2010 … my how the time flies! If I do it, it'll most likely be a 6-9 month experience starting January 2016 (with two retreats in beautiful locales). And for all manner of my clients, not just visual folks.
Anyway … that is the state of the nation in terms of Magic Marker Retreats as I now know it.
Links again below if you want to review and/or register:
Advanced Visual Skills:
June 8-9, 2015 in Victoria, British Columbia, Canada
Magic Marker Retreat
Beginning Visual Skills:
Online: Feb. 23 – April 29 (via webinar)
In-person: June 4-6 in Victoria, British Columbia, Canada
Fundamentals of Interactive-Visuals
Yours in visual and other expansion,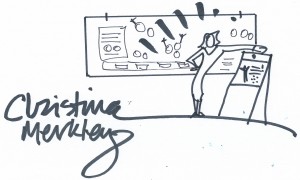 P.S. Full Course Schedule: click here.