For ahead-of-the-curve Coaches, Counselors, Therapists, Financial Advisors, Disability Specialists and other Process Professionals from around the globe.
DEADLINE TO APPLY: THIS FRIDAY, MARCH 25TH
Online Training Webinars: April 5 – June 14, 2016
2 Pre-requisites / Combo Package Available


More Info and Application Process: Click Here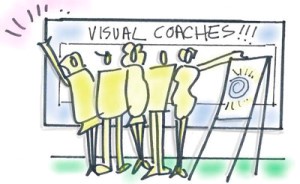 Working Visually is accelerating in global mainstream acceptance each year.
Following in those footsteps is this powerful niche within the niche: Visual Coaching … the use of visual methods with individuals, partners and small teams to promote greater awareness, insight and change.
Visual Coaching literally helps clients SEE their professional and personal lives in ways they never have before — the results: deep insights, aligned actions and valuable breakthroughs in the areas most important to them (career, finances, health, relationship, environment, meaning, etc.).
Learn Multiple Delivery Methods:
The acceleration of Visual Coaching is being driven in part by advances in technology that allow us to work with our clients in new and flexible ways.  Work traditionally using in-person paper-and-marker methods literally drawing your client's thoughts and feelings out right in front of them.

And/or add new electronic delivery methods to your toolkit, to work-at-a-distance with clients outside of your geographical region.  Adding more range, flexibility and profitability to your practice and lifestyle. I share all my tried and true methods gained from my pioneering experience in cracking the code on this effective way of working.
• Quantum Leap: Get Operating Faster and More Efficiently
Than Trying to Reinvent the Wheel By Yourself.
• Proven Visual Coaching Process With 17 Visual Moves. 
• 13 Additional Visual Moves: For Even Greater Coverage. 
Guidance in Adding Visuals to Your Own Intellectual Property.
Plus Connection to a Network of Intelligent, Inspiring Colleagues …
Together We Do Our Part to SHIFT our World for the Better!
The SHIFT-IT System® With 17 Visual Moves:
Visual Coach Certification includes training and a life-time license in my SHIFT-IT Visual Coaching System® … with its 17 Visual Maps.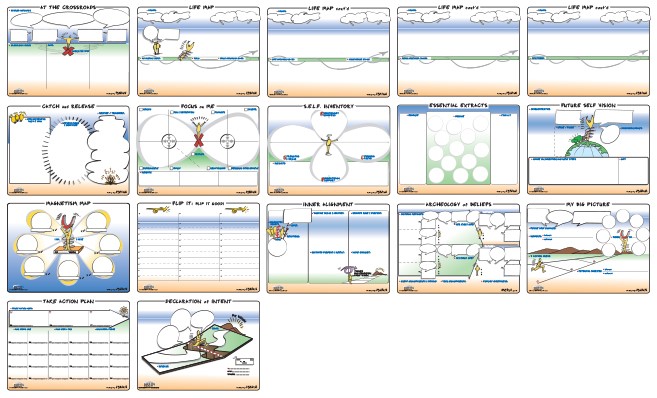 PLUS 13 NEW MAPS: 30 VISUAL PROCESS TOOLS IN TOTAL NOW!
Certification is now enhanced with 13 additional process moves: including a Mini SHIFT-IT Retreat, Law of Attraction tools, more Magnetism Maps (visioning) … plus the profound Orphan Rescue protocol (deep soul retrieval for healing entrenched resistance).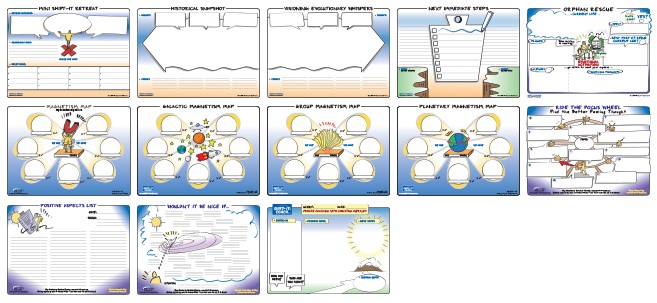 WHO'S A FIT?
This robust program is for innovative Process Professionals who already work with individuals, partners or small groups (or want to) whether you are internal in an organization or an independent practitioner. Coaches, Counselors, Therapists, Financial Advisors, Disability Specialists, Mediators and others Helping Professionals. While proclivity for creativity is a must you DO NOT need to be an artist in order to effectively use this visual medium. If you are an artist, add your flair to the stable foundation I provide.
DEADLINE TO APPLY: MARCH 25TH
More Info and Application Process: Click Here
IMPROVED COMBO PACKAGE: Do you have the two required pre-requisites? This year I've also modified the Combo Package, to include the two pre-requisites PLUS my 10-module Business Essentials for Process Professionals Kit. And, you can now take up to 2 years to complete the courses (either choosing to join us in 2016 or 2017).
**** ONE-TIME 'GRANDFATHERING' OPPORTUNITY:
Have you taken one, two or even three of the programs now included in the Combo? If you have, I'm allowing a one-time chance to roll your previous purchases into the new Combo Package (you can join us in 2016 or 2017 for Certification). Write admin@shift-it-coach.com for specifics in your situation. Must act by this Friday.
TAKE ADVANTAGE OF FAVORABLE CURRENCY EXCHANGE: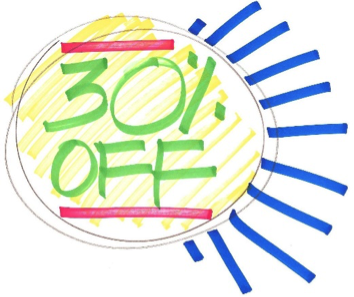 SHIFT-IT Coach, Inc. is a Canadian company and as such all programs are in Canadian funds. FYI, the Canadian dollar is currently at a decade low … which translates into roughly 30% savings for Americans, Europeans and some other locales.
If you've had this training on your Vision Board, now is the time to act before the currency shifts back.
I look forward to guiding you to success and fulfillment in the Visual Coaching methodology,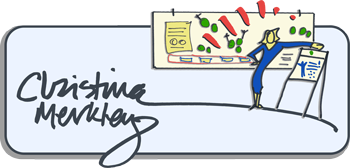 Visual Coaching Pioneer
P.S. Did you catch the recent 90-Minute Info Webinar "Intro to Visual Coaching"? If not, register here for instant access to video and slide deck shared. Gives a good overview of this methodology and its benefits to you and your clients.
P.P.S. I come from a North American corporate consulting background so my rates reflect those circles. Please see my policy on partial scholarships for underserved populations or if your country's currency is challenged. We may be able to create a win/win so you can participate too.
P.P.P.S. For a full overview of SHIFT-IT School curriculum (in-person classes, online classes and home study products) click here.