Hopefully you've seen the flurry of communications this last while regarding the upcoming 2017 Visual Coach Certification cohort.
FYI, this is the LAST CALL TO JOIN US … whether you already have the two pre-requisites or are procuring them via the Combo Package.
DEADLINE TO APPLY: FRIDAY, MARCH 31ST
Online Training Webinars: April 4 – June 13, 2017
2 Pre-requisites / Combo Package Available
Slide Under the Wire Today: Click Here For Full Details

This program is for innovative Coaches, Consultants, Teachers, Counselors,
Therapists, Financial Advisors, Disability Specialists and other Process
Professionals who work with individuals, partners and small groups.
This Program Is Specially Designed To: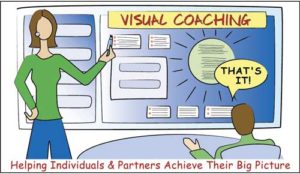 Quickly Empower You to Add Visual Coaching To Your Offerings (as fast as you want to integrate these extremely useful methods into your own practice);
Expertly Train You In My SHIFT-IT System® and Suite of 17 Visual Tools (plus 13 additional visual moves for a total of 30 overall);
Create Your Own Signature System & Tools Too: Should You Wish To Develop Your Own Moves in Addition To The 30 Supplied;
Learn the Various In-Person and Virtual/Distance Approaches and Their Related Tech (for expanded range in who/how you work);
Rapidly Hone Your Visual Skills for Effective Use With Individuals, Partners and Small Groups. And Improve Your Group Visual Skills Too (if you also consult, facilitate or train);
Build Effective Business, Marketing and Sales Acumen (whether you are internal or external);
Connect You With Intelligent, Dedicated and Inspiring Colleagues From Across the Globe (to mutual support, share and network).


WHO'S A FIT?
This robust program is for innovative Process Professionals who already work with individuals, partners or small groups (or want to) whether you are internal in an organization or an independent practitioner. Coaches, Counselors, Therapists, Consultants, Human Resources, Teachers, Financial Advisors, Disability Specialists, Mediators and others Helping Professionals. While proclivity for creativity is a must you DO NOT need to be an artist in order to effectively use this visual medium. If you are an artist, add your flair to the stable foundation I provide.
DEADLINE TO APPLY: FRIDAY MARCH 31!!!
Online Training Webinars: April 4– June 13, 2017
2 Pre-requisites / Combo Package Available
Slide Under the Wire Today: Click Here For Full Details
I look forward to guiding you to success and fulfillment in the Visual Coaching methodology,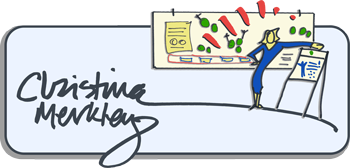 Visual Coaching Pioneer
P.S. DATES OR TMES DON'T WORK:
Attending the training webinars live is preferable, however for some circumstances I may excuse the live attendance criteria (i.e. time zones or scheduling conflicts). Each session is recorded, so if you can't attend live, it is expected you will watch the recording as soon as possible and actively participate in the networking forum to interact with your cohort colleagues and I.
P.P.S. COMBO PACKAGE IS BEST DEAL:
There are two pre-requisites (or equivalent experience) required for this program.  Do you have them already?  If not, the Combo Package includes the two pre-requisites PLUS my 10-module Business Essentials for Process Professionals Kit as a valuable bonus.  There are still a few ways to do the pre-requisites in order to be included in this upcoming cohort.
P.P.P.S. GRANDFATHER YOUR PREVIOUS COURSES:
Have you already taken one, two or even three of the programs included in the Combo?  If so, you may roll your previous purchases into the Combo Package to secure best rate. Write  admin@shift-it-coach.com for specifics in your situation. Must act by March 31st.
P.P.P.P.S. TAKE ADVANTAGE OF CURRENCY RATES IN YOUR FAVOR: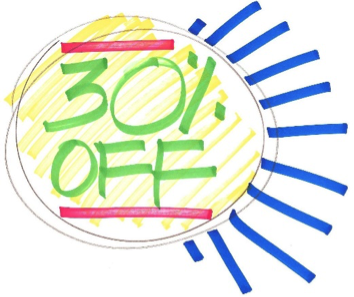 I'm a Canadian, and as such all of my programs are in Canadian funds. FYI, the Canadian dollar is currently at a decade low … which translates into additional 30% savings for Americans, Europeans and some other nationalities.
If you've been eyeing Visual Coach Certification, now is the time to act before our dollar rebounds.
P.P.P.P.P.S. INFO WEBINAR: INTRO TO VISUAL COACHING:
Did you catch the 90-Minute Info Webinar "Intro to Visual Coaching"?  If not, register here for instant access to video and slide deck.  Gives a good overview of this methodology and its benefits to you and your clients.