Are you a Process Professional who works with groups and/or individuals? Are you a Visual Thinker who wants to learn more about the medium you naturally prefer?  Or a closet creative who has kept your interests on the low down but is ready to bust out?
Just 7 Spots Left … Early Bird Ends Tuesday!
 THE FUNDAMENTALS OF WORKING VISUALLY
LIVE INTERACTIVE WEBINARS
October 8 – December 19
Mondays & Wednesdays
noon-1 pacific
(1pm mountain, 2pm central,
3pm eastern, Europe: Evenings,
AustralAsia: Early Mornings).
ATTRACTS PROCESS
PROFESSIONALS FROM
ACROSS THE GLOBE!
NO TRAVEL REQUIRED!
For Leaders, Managers, Consultants, Facilitators, Trainers, Coaches, Counselors, Scribes, Artists … frankly anyone who works with groups and individuals and wants a powerful way to engage their clientele (and keep themselves happily engaged too!).
This 9-Week Professional Skills Training thoroughly teaches you the ins and out of working visually and how to apply the base skills to the four main ways of working: Studio Work, Graphic Recording, Graphic Facilitation and Graphic Coaching.
Just 7 Spots Left … Early Bird Ends Tuesday!
CLICK HERE FOR FULL DETAILS AND ONLINE REGISTRATION
This Course Is a Pre-Requisite for All Of Our Advanced Courses
COURSE OVERVIEW:
Learn the historical story of the Graphic Facilitation / Graphic Recording field and what the four main applications are (so you can decide which suits you and your practice best);
Learn what the best supplies are, where to source them and how to create engaging in-person and digital environments for your clients;
Receive icon libraries, visual resources and step-by-step directions on how to integrate visuals into your own practice (no matter where on the visual spectrum you fall). NO you DO NOT need to be an artist to use visual techniques effectively. However if you do come with artistic chops, there are specific applications where your style can shine.
Get precise, gentle, connect-the-dots instruction on how to 'draw' … I sneak it up on you so get beyond any 'art phobia', fear or comparison problems you might have about your creative abilities (this work is really about PROCESS not art);
See varied examples and detailed explanations of real client work (culled from two decades of working nationally, internationally and digitally with corporate, not-for-profit, governmental and individual populations);
Practice your new skills and receive detailed feedback (the online experience enables us to create a real learning lab over 9 weeks … post your work and witness the work and feedback others receive too – very valuable!);
Receive supportive coaching on which steps to take to build your practice, whether you are internal in an organization or out on your own (I've successfully trained over 2500+ people from around the world and if you want to work this way, YOU CAN!
Connect with individuals from diverse backgrounds and locations also interested in this visual niche — your global visual tribe!  (program includes a private online forum where you virtually meet one another, upload your work, share tips, resources, etc).
Additionally, you receive a valuable post-grad membership in my Working Visually eCommunity for ongoing connection (includes monthly drop-in webinars for spontaneous coaching plus video library of all past sessions!).
Just 7 Spots Left … Early Bird Ends Tuesday!
CLICK HERE FOR FULL DETAILS AND ONLINE REGISTRATION
This Course Is a Pre-Requisite for All Of Our Advanced Courses
Working visually is an EXCELLENT TOOL to add to your process toolkit — as over 87% of the population are Visual Thinkers.  This way of working is taking the world by storm … aided by tablet technology (ipads, etc) and other advances.
Don't wait, do it this season … so can start integrating visuals into your work now!
Should you have any questions, just email us back. I'm also available for Exploratory Chats should you wish to speak to me directly about how visual skills can fit into your life and practice.
I look forward to training you this fall and getting these powerful and fun skills into your toolkit!
Yours in expansion,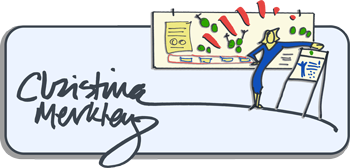 Process Skills Mentor
P.S. New? Need more info? For a good overview of the four main ways of working visually see 90-Minute Info Webinar.
P.P.S. Live online format doesn't work for you? See Home Study Kit for self-paced option. Public in-person and private in-person also available. Plus in-house training for organizations or communities.
P.P.P.S. Interested specifically in Process Work with individuals? See Visual Coach Certification. The Fundamentals of Working Visually course is one of two pre-requisites required for entry.
P.P.P.P.S. Been at it a while? Need more advanced support? See Magic Marker Retreat, Visual Apprenticeship and Mentoring Via Distance Sessions for advanced offerings.
P.P.P.P.P.S. If you have taken this course before (via online, in-person or The Home Study Kit), come as my Guest for the Repeater Option.