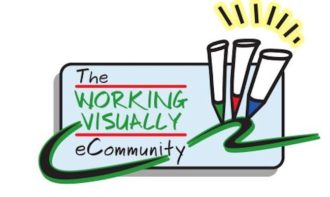 Hosted the April Drop-in Webinar for The Working Visually eCommunity on Thursday April 25th. This is a monthly support group for grads of our visual programs: Fundamentals of Working Visually, Intermediates of Working Visually, Fast & Loose Sketching and Visual Coach Certification. Visual Practitioners trained elsewhere are also welcome. Emergent Agenda from Members each month. Fully Recorded. Membership includes Video Archives back to 2015.
This Month's Agenda Items:
1. New Visual Practitioner Did First Big Paid GR Gig and Survived … Yah! Not Just Survived as Several Good Leads Came Out of It. Now a Rather Large Potential Studio Work Gig Has Emerged. She Sought Our Guidance On What Info Is Typically Required to Properly Quote and What the Stages of a Studio Work Project Are.
2. Jack of All Trades Has Discovered GR/GF Work And Is Integrating Into His Offerings. Dilemma of Other Visual Practitioners in His Small Community Already And Doesn't Want to Step on Toes, But Does Want to Build His Own Practice. Also Inquiry About Analog vs Digital Delivery. Guidance to Start Exploring for Digital Opportunities Through Already Existing Network. He Quickly Came Up With Who to Approach and What to Suggest – Virtual Gathering for His Consent Practices Colleagues.
3. General Check-Ins From Others Participants. New Visions Naturally Unfolding. Better GR Gigs After Input from eCommunity Last Month. Transition from Texas to Spain. Lining Up Practice Clients for Participation in Visual Coach Certification. Wrestling with Studio Work to Depict Thought Leadership in Complex Change. Too Busy in Dubai. Working Lots But Not Monetizing Yet in South Africa. Questions About Upcoming Magic Marker Mastermind in June in Victoria, BC, Canada.
Next gathering of The Working Visually eCommunity is Thursday, May 23, 11am pacific. See you then!