---
For Beginners Or Repeaters:
FUNDAMENTALS OF WORKING VISUALLY®
Visual Skills for Process Work with Groups and Individuals

For Process Professionals who work with groups or individuals – managers, consultants, trainers, teachers, facilitators, therapists, coaches, scribes and others. Over 87% of your clients are Visual Thinkers so it only makes logical sense to work in ways that best reach them. This professional skills training thoroughly covers the four main ways of working visually: Studio Work, Graphic Recording, Graphic Facilitation and Graphic Coaching. Attracts participants from across the globe.
Three Options: online, in-person or via handy home study kit.
Just 20 8 Spots Left
ONLINE VERSION VIA LIVE WEBINARS
9 Weeks Online: Feb. 27 – May. 10, 2017
Live Webinars: Mondays & Wednesdays, noon-1pm Pacific
Full Details and Online Registration

___________________________________________
Early Bird Pricing until Apr. 20,2017
Just 20 15 Spots Left
IN-PERSON VERSION IN VICTORIA, CANADA
3 Day Intensive: June 1-3, 2017
Beautiful Victoria, British Columbia, Canada
Full Details and Online Registration
___________________________________________
Available At Any Time
HOME STUDY KIT VERSION
Learn at Your Own Pace From Your Own Environment
Full Details and Online Registration
Note: Pre-requisite for Visual Coach Certification. FYI, Repeater Option available on Feb. class for those who have taken before and want to repeat as a guest (write us for coupon code).
---
For Process Professionals Who Work With Individuals:
2017 VISUAL COACH CERTIFICATION®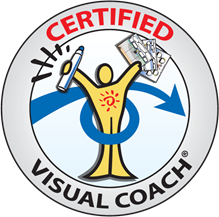 For coaches, counselors, therapists and others who work deeply with individuals. Add the power and innovation of Visual Coaching to your professional practice. Includes advanced Visual Coaching techniques, use of my SHIFT-IT System® with your clientele (17 visual maps), guidance in the 'template-izing' of your own intellectual property, plus marketing and biz development support.
Apply Now to Join 2017 Cohort
2017 VISUAL COACH CERTIFICATION
Live Webinars: April 4 – Dec. 31 2017
Tuesdays, Noon-1:30 pm Pacific
Full Details and Application Process
Two Pre-requisites: SHIFT-IT Online and Fundamentals of Interactive-Visuals (or equivalent experience).
---
For Visual Keeners:
MAGIC MARKER RETREAT®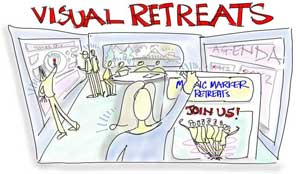 Getting your visual basics is half the equation – the other is competency and creation of a viable practice (whether you are internal or independent). This 2-day Boot Camp takes your visual practice to the next level: chock full of at-the-wall drills, project brainstorming (bring work for feedback and ideas), and identity/brand/financial coaching. Work your brain, your fingers and dissolve your resistance, all in deep community with Visual Practitioners.
Just 7 3 Spots Left
IN-PERSON:
2 Day Intensive: June 5-6, 2017
Victoria, British Columbia, Canada
Full Details and Online Registration
Note: Pre-requisite is Fundamentals of Working Visually (or equivalent experience). Each Magic Marker Retreat is a unique experience, come as many times as you like for continued inspiration and development!
---
For Visual Skills Grads
WORKING VISUALLY eCOMMUNITY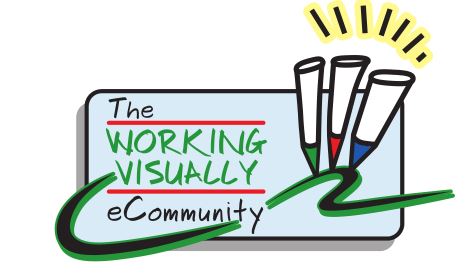 Are you a grad of one of my Visual Skills programs? If so, you qualify for access to our WORKING VISUALLY eCOMMUNITY for ongoing support. This community includes online forum filled with various topics related to working visually (media, announcements, skill development, technology, business development, inner work, etc.). Plus a monthly drop-in webinar and recording library.
Dates for upcoming webinars:
March 16, 11am pacific
April 20, 11am pacific
May 18, 11am pacific
June 15, 11am pacific
July 20, 11am pacific
August: off
Sept. 21, 11am pacific
Oct. 19, 11am pacific
Nov. 16, 11am pacific
Dec. 21, 11am pacific
---