For Beginners Or Repeaters:
FUNDAMENTALS OF WORKING VISUALLY®
Visual Skills for Process Work with Groups and Individuals

This professional skills training (fully online) thoroughly covers the four main ways of working visually: Studio Work, Graphic Recording, Graphic Facilitation and Graphic Coaching. Over 87% of your consulting, facilitation, training, teaching and coaching clients are Visual Thinkers – these powerful visual skills boost the effectiveness of how you work with groups and/or individuals. This is the online version of my popular fundamentals training (no travel required). Attracts folks from across the English-speaking world – your Visual Tribe! Fully recorded, if you miss classes or want to watch at a time more convenient for you.
Act Now, Just 20 7 Spots Left!
ONLINE VERSION VIA LIVE WEBINARS:
October 2 – December 13, 2017
Mondays & Wednesdays, noon-1pm Pacific
Full Details and Online Registration
Note: Pre-requisite for Visual Coach Certification.
---
For Professional and Personal Results:
PRACTICAL ENERGY WORK
Boost Your Right-Brain Intelligence


Our modern world still operates on a left brain bias: analytical, mental and rational … with serious consequences for individuals, groups and our planet-at-large. However our right brain is always there, albeit often underused and even denigrated. Learning to be 'whole brained' is a powerful advantage in life and work. Join me for this foundational online class to harness your right brain resources: emotions, subtle energy and intuition. Practical tools on energy management, law of attraction, trauma, brain wave mastery, problem-solving, etc. Guest experts. Plus community with other participants from across the globe.
This Practical Energy Work 1 course is the foundation course to get you quickly up to speed on useful energy work protocols to assist your life and work. See Energy Work 2: The Mastermind, for advanced application.
Now Open for Registration
October 28, 2017 – February 24, 2018
Live Webinars: Saturdays, 1-2:30 p.m. Pacific
Full Details and Online Registration
Note: Prerequisite for Practical Energy Work 2: The Mastermind
---

---
For Visual Skills Grads
The WORKING VISUALLY eCOMMUNITY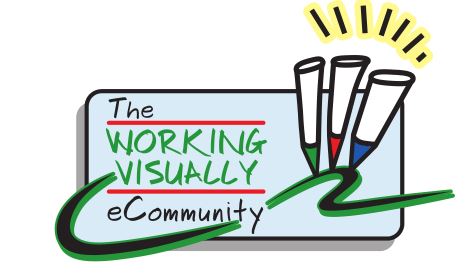 The Working Visually eCommunity supports you to further hone your outer work in Visual Skills and Business Building.  As becoming a decent Visual Practitioner is all about practice, practice, practice and mileage, mileage, mileage.  And getting suave about marketing, sales and the business side.
This eCommunity is a free perk for those who have taken my more Left-Brain programs: Fundamentals of Working Visually, Magic Marker Retreats, Visual Coach Certification and/or Business Essentials for Process Professionals.  To keep going in community with like-minded people from across the globe.  It includes Drop-in Monthly Webinars, Video Recording Library and 24/7 Forum.
Dates for upcoming webinars:
2017
Thursday Oct. 19, 11am pacific
Thursday Nov. 16, 11am pacific
Thursday Dec. 21, 11am pacific
2018
Thursday Jan 18, 11am pacific
Thursday Feb. 15, 11am pacific
Thursday March 15, 11am pacific
Thursday April 12, 11am pacific
Thursday May 17, 11am pacific
Thursday June 21, 11am pacific
Thursday July 19, 11am pacific
Full Details and Online Registration
---
Draw Your Vision and Erase Your Resistance
The SHIFT-IT eCOMMUNITY
The SHIFT-IT eCommunity supports you to further your Inner Work in personal visioning, planning and energy alignment. I can teach you Outer Work skills until the cows come home, but if you have an internal conflict that interferes, you will never get movement.  For some, Outer Work learning must be complimented with Inner Work resolution.
This eCommunity a free perk for those who have done my more Right-Brain courses: SHIFT-IT, Practical Energy Work 1 or Practical Energy Work 2 (or my Thrive and THEO Accelerator co-programs back in the day).  To keep going in community with like-minded people from across the globe.  It includes Drop-in Monthly Webinars, Video Recording Library and 24/7 Forum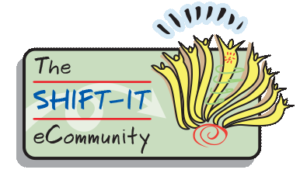 Dates for upcoming webinars:
2017
Saturday Oct. 7, 1-2:30
Sunday, Nov. 5, 11-12:30
Sunday, Dec. 3, 11-12:30
2018
Saturday, Jan. 6, 10-11:30
Sunday, Feb. 4, 11-12:30
Saturday, March 3, 1-2:30
Saturday, April 7, 10-11:30
Saturday, May 5, 10-11:30
Saturday, June 9, 10-11:30
Saturday, July 7, 11-12:30
Full Details and Online Registration
---