I hope you are doing ok through these tumultuous times.
I'm hanging in after 11 months of abnormal here in Canada.
I continue to facilitate, coach, and teach online. Something I was already doing pre-pandemic but which now makes up the bulk of my time.
The only in-person work I can currently do in accordance with local health restrictions are private visual skills trainings for local Canadians (at my rural studio near Victoria, British Columbia).
My free Process Pop-Ups and Recorded Visual Coaching Sessions which started back when the pandemic was sweeping into North America, are continuing in 2021. My way of being of help using my unique skills (processing thoughts and feelings with visual techniques).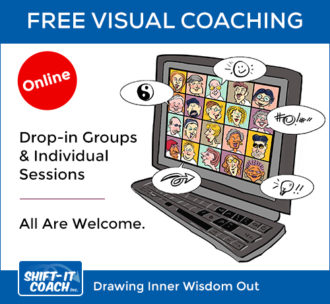 All are welcome to attend live (drop in when you can).  Afterwards, recordings are placed on my YouTube channel to assist viewers with parallel processing. Quite a unique library is building up.
All of the current topics of our times are processed: pandemic, divisionary politics, race relations, environmental crisis, economic uncertainty, right livelihood, etc.
I'm so appreciative of the honesty, vulnerability, and courage of those who so generously do their Inner Work publicly.  Its an honor to hold the space and to be stretched and grown right along side you every time.
With the world being in such flux, its been a challenge to figure out what other offerings to do this year.  What is really going to be of assistance? How can my efforts make a dent in the change that is needed?  Where do I personally want to direct my efforts and energy?
The answer for me is my Visual Coaching work including the deep non-dual work of my Satsangs. As our Inner Work is something we all have the power to do.  Helping people to navigate personal and collective transition, with visuals as a helpful aid.  And training other Process Professionals around the globe to do the same.
With that in mind, please find my 2021 online courses below.  As well as my 8 Home Study Kits to learn at your own pace. Most everything has been converted to Pandemic Prices (save up to 50%) as well as new a Accessibility Level for those who need it.
It was remarkable to run courses in 2020. Superficiality fell by the wayside and we related at a really genuine level. I have no doubt that the 2021 courses will be as deep if not even more so.  I look forward to teaching and also learning from you!
2021 LIVE ONLINE COURSES:
Visual Satsang – Online Course:

15 Live Webinars: Mondays, Feb. 22 – June 21, 2021, 9:30-11am Pacific

New Cohort Forming Now

---

Fundamentals of Working Visually – Online Course

18 Live Webinars: Mondays & Wednesdays, Feb. 22 – May 5, 2021. Noon-1pm Pacific

*Prerequisite for Visual Coach Certification

Save 50%


---

SHIFT-IT Online Retreat

9 Live Webinars (3 a day): March 5-7, 2021

*Prerequisite for Visual Coach Certification

Save 50%

---

Visual Coach Certification –

Save 50%

Spring Cohort: Tuesdays March 30 – Sept 21, 2021,
Noon-1:30 Pacific. Requirements by Dec. 31, 2021

Fall Cohort: Tuesdays Sept 28, 2021 – Feb. 1, 2022,
Noon-1:30 Pacific. Requirements by June 30, 2022

---

Fast & Loose Sketch Club – Online Course

12 Live Webinars: Wednesdays, April 14 – June 30, 2021. 9:30-11am Pacific

Rhoda Draws From Mexico!
---

Wishing you much support on your individual journey during such provocative times. And to humanity at large as we collectively create our shared future!
Here's to SHIFTing IT,

Christina Merkley
The SHIFT-IT Coach
www.shift-it-coach.com
---