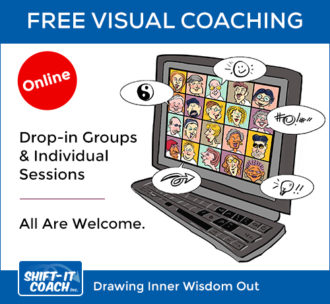 Hard to believe that the Process Popups have been in existence for over two years now!
Back when the pandemic was descending upon North America, I repurposed two of my eCommunities into the Process Popups.  To provide practical and emotional support.
I've hosted 43 Process Popups, plus 57 Individual Recorded Sessions.
Deep thanks for your openness, honesty, bravery, vulnerability and beauty.
These gatherings have become my Seva (service in the world) and I'm deeply grateful to be able to use my skills … and be stretched and grown each time too.
NAME CHANGE: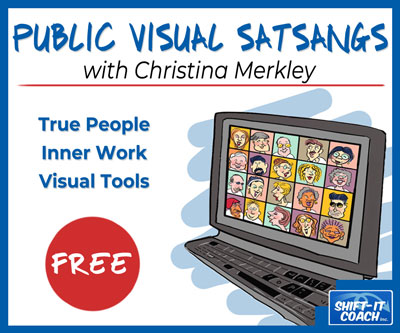 The times continue to remain uncertain, so I'm going to continue with these offerings.  However with a name change.
The Process Popups have naturally morphed into a Public Visual Satsang.
To more accurately reflect that, I'm just going to call them that moving forward.
Satsang is a Sanskrit word that means 'in the company of true people'.
I already host Private Visual Satsangs that meet continuously. So in essence the Process Popups will now become the Seva version.  Offered to the public, for no charge, every few weeks.  Recorded so they can be shared to assist parallel processing.
So Inner Work and Consciousness with a Capital C is accessible for all, or at least those with internet connections.
If the Satsang word make sense to you …  great! Likely you are already aware of meditation, nondual and Self Inquiry (maybe even Advaita Vedanta).
If it doesn't … no matter, it's one of those 'you have to be there' kind of things.  Come or watch sometime and you'll see what I mean!
NEXT DATE: SATURDAY, APRIL 16, 1-3pm Pacific Time
The next gathering is Saturday, April 16th at 1-3pm Pacific Time (convert to your zone). So save the date for Satsang on Easter weekend!
LOGISTICS AND EMAIL REMINDERS MOVING FORWARD:
If you are already on the Process Popup list, you'll receive email announcements and reminders as usual under the new name. As per usual, dates and times vary to attempt to accommodate folks in different time zones.
If you aren't on the gathering list and want to be, you can learn more about the Satsangs and register here.
 Love,



Christina Merkley
The SHIFT-IT Coach
www.shift-it-coach.com
P.S. Need to do some inner work but the Satsang date is a while off?  Reminder that the SHIFT-IT Coach YouTube Channel exists at any time.  Browse the videos for what resonates.  Watch for helpful parallel processing. Continues to grow.
---