FALL 2022 SEMESTER:
SHIFT-IT – ONLINE VISUAL COACHING RETREAT
Pandemic Prices Still in Effect: Save 50%

Supportive and effective Visual Coaching experience – The SHIFT-IT Retreat.
Gift yourself, or someone close, to three special days to personally retreat and literally draw your next chapter out. No art skills required, although creatives of all kinds love this visual way of working. Includes 17 Visual Maps, Manual and plenty of live, spontaneous Visual Coaching. Be forewarned this is a very powerful experience – if you do these deceptively simple maps, you shift!
ONLINE: 9, 90-Minute, Live Zoom Webinars Over 3 Days: September 9, 10 & 11, 2022
*** Pre-requisite for Visual Coach Certification
*** Also available in Home Retreat Kit if live times aren't doable.
---
VISUAL COACH CERTIFICATION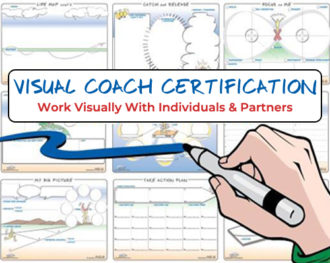 Pandemic Prices Still in Effect: Save 50%
Learn my Visual Coaching techniques (analog and digital) and use my proven tools in your internal role or external practice. For Managers, Coaches, Counselors, Therapists, HR, Financial Advisors, Mediators, Advocates and more. Includes 40+ visual maps, instruction and supervision – plus a diverse international cohort of colleagues. Together we help ourselves, others and our beloved planet shift!
9 Spots Left!
ONLINE: Live Zoom Webinars: October 4, 2022 – June 30, 2023
Tuesdays, Noon-2pm Pacific Time

---
VISUAL SATSANG – PRIVATE
It's time for another deep dive! Satsang is a Sanskrit word, meaning to associate with true people. These private, small groups bravely meet the good, bad and ugly of our lives and times. My most advanced Inner Work container. Non-dual approach (no sides, instead we seek to deeply understand). An excellent follow-up to SHIFT-IT and/or Certification. Each one is unique and one-of-a-kind. Attracts serial attendees – one just isn't enough!
ONLINE: 16 Live Zoom Webinars
Saturdays, 10am-Noon Pacific
October 22, 2022 – February 18, 2023
*** No pre-requisite (although SHIFT-IT Visual Coaching System can be helpful for orientation).
---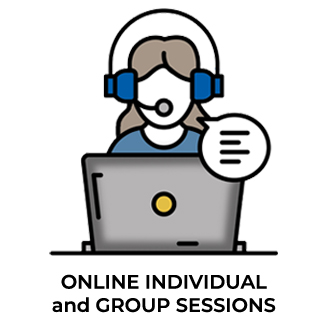 SESSIONS WITH CHRISTINA – PRIVATE
Visual Coaching for individuals, couples, biz partners and teams.
Skill and biz mentorship of beginner and intermediate Visual Practitioners.
Meditation and Self Inquiry with conscious seekers, and finders!
Private Zoom Sessions – Various Times to Accommodate All Zones
---
ONGOING COMMUNITY SUPPORT:

VISUAL SATSANGS – PUBLIC
This is the free and public version of the Satsang. Started when Covid first reared its ugly head, and has been going ever since. To assist with consciously meeting these intense times: pandemics, mandates, racial justice, climate change, economic reset, polarized politics, war, shortages, and the other ups and downs of life in the stressful 2020s. Recorded to assist with parallel processing.
NEXT PUBLIC SATSANG:
#47 – Thursday, June 30, Noon-2pm Pacific Time
convert to your zone
---
SESSIONS WITH CHRISTINA – PUBLIC

These are free individual Visual Coaching and Satsang sessions in exchange for recordings, which are shared on my Blog/eZine and YouTube Channel. See the growing library on a range of topics. Intuitively scan for parallel processing. Book one for yourself, or point out to colleagues, friends or loved ones who could benefit.
Recorded Zoom Sessions – Various Times to Accommodate All Zones
---
HOME STUDY KITS:
Pandemic Prices Still in Effect on Most Kits:
Instant access – on your own timing!
Deluxe Level includes 3 Private Coaching Sessions.

SHIFT INTO CRYPTOS
How to Safely Buy, Sell and Store Digital Assets.
FUNDAMENTALS OF WORKING VISUALLY
Comprehensive Visual Skills Education
SHIFT INTO DIGITAL WORK
Select, Set Up and Use Digital Equipment
FAST & LOOSE SKETCHING
Crash Course in Design and Drawing
FAST & LOOSE SKETCHING: HEADS & HANDS
Additional Portrait and Caricature Support
CARTOON & STORYBOARD TECHNIQUES
Step-by-Step Instruction with Karen Lloyd
BUSINESS ESSENTIALS FOR PROCESS PROFESSIONALS
Money, Marketing and Mindset for Creatives
SHIFT-IT HOME RETREAT
Visual Coaching for Work and/or Life Shifts
PRACTICAL ENERGY WORK
Inner Work for Integration and Wholeness
Can't Decide?! Email admin@shift-it-coach.com for a complimentary Exploratory Chat with Christina.
---