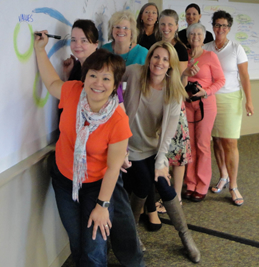 As I wrote in my eZine last week, I'm going through an interesting evolutionary burst. My creativity always goes into deeper places during the short, dark, final weeks of the year … however this season its SUPER STRONG and merged with a LARGER CREATIVE PULL having to do with the eras of my career and being right smack in mid-life.
Up to the age of 25 was all about advanced education for me (getting my masters in Organizational Development & Transformation). The years 25-35 were about Graphic Recording and Graphic Facilitation (visual process work with groups). 35-45 was creating the Visual Coaching niche (including my SHIFT-IT Process® and Visual Coach Certification®).
And now, at 45, my Inner Being wants to me to do even deeper, more provocative process work (SHIFT-IT 2), my XinaMerk Art (paintings and related doodads) and provide advanced support to our Certified Visual Coaches (now that we have a good critical mass of practitioners from across the globe).
Given these new marching orders, some things in my schedule will have to give, as I can't do everything, as much as I'd like to. FYI, the upcoming 2014 cohort of Magic Marker Mastermind will be my LAST offering of this innovative program.

If you have a burning desire to improve your base visual skills and build a visually oriented process practice (particularly around the group applications of Graphic Facilitation or Graphic Recording) NOW IS THE TIME TO ACT (after this cohort, this kind of mentorship will only be available privately via a much greater investment). I will be continuing to provide innovative Mastermind Experiences, however specific advanced instruction around improving visual skills will not be a part of them.
I have an exceptional background in visual process work with groups and individuals (across corporate, government, not-for-profit and small business environments) and am a skilled teacher and mentor. I can shave months or even years off of your learning and biz development curve. Plus introduce you to smart, intelligent, innovative people who just like you appreciate and understanding the growing importance of working visually.
Masterminding with Other Keen Visual

Practitioners From Around the Globe

    
January 16 – June 24, 2014
Just 10 6 Spots Left!
Deadline to Apply is Dec. 20th


Full Details and Application Process
http://www.visualcoaches.com/training/magic-marker-mastermind/
The Magic Marker Mastermind…
• Brings together determined, committed, smart, pragmatic visually oriented Process Professionals (consultants, facilitators, trainers, coaches, therapists, scribes and other process leaders) for dramatic skills acceleration and business building;
• Helps you effectively craft your business identity, brand and marketing (depending on where your process career is and what you next want to be, do and have);
• Enhances your ability to create and sell your offerings to land excellent work and clients (whether you are internal in an organization or self employed);
• Improves the professionalism and quality of your Interactive-Visual skills (via tailored instruction, coaching and feedback);
• Increases your confidence and ownership of your own unique style and aptitudes … be who YOU are and LIKE it;
• Adapts to the needs of its members (you get what YOU want out of it) by co-developing the Retreats, Webinar and Forum agendas);
• Teaches you how to be positive and operate from an abundance mentality … and how to course correct when resistance (self doubt, negative others and scarcity mindset) threatens to take you and your aspirations down.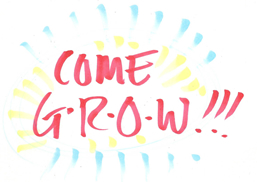 Entrance into The Magic Marker Mastermind is via application on a first-come, first considered basis. My Fundamentals of Interactive-Visuals (or equivalent experience) is a pre-requisite.
This exciting development opportunity includes THREE 2-day retreats! In addition to the retreats, there are Cohort Webinars every two weeks, a NING Forum (for ongoing sharing) plus 6 private coaching sessions with yours truly.

January 16 – June 24, 2014
Just 10 6 Spots Left!
Deadline to Apply is Dec. 20th
Full Details and Application Process
http://www.visualcoaches.com/training/magic-marker-mastermind/
Apply now to give yourself the gift of graphic expansion for years and decades to come. Your visual self will thank you! Looking forward to another fascinating round of manifestations and seeing whom our final cohort is!Yours in Expansion,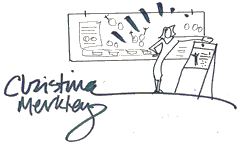 Interactive-Visuals Mentor & The SHIFT-IT-Coach
P.S. Dates don't work for you? Not a group person? Want your learning in a more tailored form? FYI, Private Training's & Apprenticeships and Private Coaching are also available for advanced mentees.
P.P.S. For an overview of our full 2013-14 Curriculum, Click Here.