Free Articles
General Info on Working Visually with Individuals & Groups:
Drawn by Success Audio Interview
Download the MP3 by right click (option) clicking on this link, and choose 'Save Target As' (or Save File As).
---
Do you feel a vague or constant sense of pressure? Is there anxiety but not necessarily a sense about what (or about everything)? Do you have part of the picture but not the full puzzle figured out yet … but feel frustratingly compelled to do so? If so, you have the signs of being in the midst of a creative acceleration. Your life is SHIFTing … you just haven't reached a fuller awareness yet as to what. Many of the people who find their way to SHIFT-IT Coach, Inc. exhibit those symptoms. Often its instinct that is driving you … something in the visuals, color, energy, emotion, tone and feel of who I am and what I (or one of my students) do, resonates with you. Read More
Download the MP3 Audio Here
---
Interactive-Visuals: The Four Main Definitions
I tend to use this visual and these definitions in my introductory "Meeting Graphics 101″ Workshop: To help orient workshop participants to the Visual Facilitation and Visual Recording field and the spectrum of visual applications within it. Read More
---
History and Evolution of the Visual Recording / Visual Facilitation Field
This article is an attempt to answer the question of "Where DID this way of working come from? What are the historical roots of your field? Questions that I get asked as I go about my work in my own visual facilitation and visual coaching practice. Read More
View Charts (Click to enlarge):
---
The W5s of Visual Coaching
Visual coaching is a new, visual way to do coaching and personal development work. This article gives you the lowdown on this emerging methodology: who, what, where, when and why of it, as well as a little bit of the how thrown in for good measure. Read More
---
Christina's Visual Career
Christina shares her own evolutionary story: her educational background, how she stumbled upon the field, how she came to work with the top pioneering group visuals firm, rode the Silicon Valley wave … and how her work has morphed from graphic recording to visual facilitation – into training, mentoring and visual coaching. She offers tips, suggestions and guidance for how to develop your own skills and how to break into the field. Download the MP3 Audio Here
---
Summary of Christina's SHIFT-IT Presentation at 2007 Int'l Forum of Visual Practitioners Conference
Once a year the professionals of my diverse field gather to celebrate, have fun and learn from one another. This year I was asked to come share the journey of my own visual career (how i moved from visual recording, to visual facilitation, to my new innovations in the emerging visual coaching genre). I also shared Law of Attraction techniques to help our visual community to shift common resistance and boost up our vibration.
---
Visual Notes From Abraham-Hicks January 2008 Mexico Cruise
As a huge fan of the Law of Attraction material of Jerry and Esther Hicks of Abraham-Hicks
I attended my third cruise with them (this one was to Mexico). Below are my rough 'visual notes' from the workshops on board (main highlights with a few visuals ala my visual recording style). I've put them into a quick pdf report for easy download. They are rough (I was on vacation after all!), but might be of interest to other Law of Attraction and Abraham-Hicks fans. Enjoy!
Click here to download Christina's Abraham Cruise Notes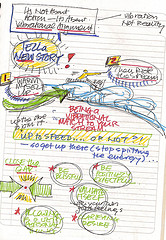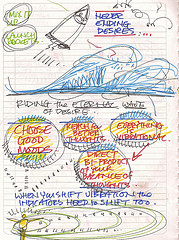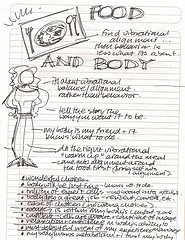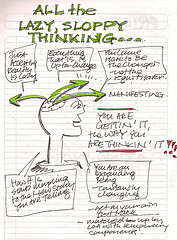 ---
The 5 Steps to Get What You Really Want
We are all in the process of manifesting … of creating what we want in life. Working with organizations and individuals, and studying much of the meta-physical research on the topic, I've determined five main steps in the process of manifesting. These basic steps can be applied to whatever YOU want to create, whether they are process things (like business development and growth, new types of work, changing in environment and enhanced or new relationships) or tangible, material objects (like cars, houses, trips, equipment, etc)…
Read More
---
Uncover Your Archeology of Beliefs
We inherit much more than genes and china cups from our ancestors; we also inherit their beliefs, attitudes and worldviews about a multitude of subjects. They pass along messages about everything: work, money, men and women, leisure time, relationships, food, other people, the meaning of life, death … you name it. These messages get communicated directly and indirectly to our…
Read More
---
Use Life Maps to Increase Personal Awareness
Whether in my facilitation work with companies and groups or in my coaching work with individuals, one of the most popular, powerful and passionate exercises is the History Map / Life Map…
Read More
---
Where is Your 'Satisfaction Interrupted'?
If you are browsing my site and reading this article, the chances are pretty high that you are in some sort of state of 'satisfaction interrupted'. This is the time that most of us enter coaching or some other experience that will help us figure out what is missing or 'off' in our lives and what to do about it. "Satisfaction Interrupted" can show itself as a vague sense that things have shifted in our lives, in a less than satisfying way. It can sneak up on us or come on like gangbusters or …
Read More
---
Visual Coaching & Law of Attraction Articles:
2012
THE POSITIVE ROLE OF ANGST AND DISCOMFORT
THE IMPORTANCE OF A SAFE HAVEN FOR YOUR AUTHENTIC SELF
KEEP PERSPECTIVE ON YOUR DEVELOPMENTAL SHIFT
HOW TO SUCCESSFULLY LAUNCH A VISUAL PRACTITIONER CAREER OR HOBBY
HOW TO EFFECTIVELY SELECT A VISUAL PRACTITIONER
VISUAL TOOLS TO MAP YOUR NEW YEAR

2011
IN APPRECIATION OF JERRY HICKS: WOULDN'T IT BE NICE IF …
THE FOUR WAYS TO WORK VISUALLY
USE VISUAL LIFE MAPS TO SHIFT YOUR PATH
MY JOURNEY WITH GRAPHIC COACHING
SMARTLY USE YOUR SUMMER FOR STRATEGIC GROWTH
THRIVE TIPS FOR THESE ACCELERATING TIMES
YES, COUNT YOUR CHICKENS BEFORE THEY HATCH
HOW TO CREATE AND EVOLVE YOUR OFFERINGS
WHAT'S YOUR DEFAULT: SHAME OR GRANDIOSITY?
ORPHAN RESCUE MAP & INSTRUCTIONS (PART TWO)
ORPHAN RESCUE MAP & INSTRUCTIONS (PART ONE)
ORPHAN RESCUE AND RESOLVE DEVELOPMENTAL DELAYS
ENVISION A SUCCESSFUL 2011 WITH MY GIFT OF FOUR VISUAL MAP
2010
GRAPHIC COACHING: THE BENEFITS OF WORKING VISUALLY WITH INDIVIDUALS, BIZ PARTNERS & COUPLES
BUILD YOUR TEAM TO ASSIST YOUR SHIFT
THE HERO & QUEEN ARCHETYPES AND LAW OF ATTRACTION
MY TOP 10 ACCELERATION BOOK PICKS
MENTEES, EXPANSION & WOULDN'T IT BE NICE IF
VISIONING RULE: GO AS SPECIFIC AS IT STILL FEELS GOOD
TIPS TO ACCELERATE YOUR BIZ AND LIFE, NOW
THE 4 METHODS OF INTERACTIVE-GRAPHICS WORK
CREATE YOUR PERSONAL VISION WITH 6 TIPS & VISUAL MAP
CRAFT YOUR POWERFUL SHIFT-IT STATEMENT
LATEST LAW OF ATTRACTION TIDBITS
FLEX YOUR FOCUS MUSCLES FOR FAST RESULTS
TOP 10 SOOTHING THOUGHTS FOR ADULT LEARNERS
FIND THE FEELING PLACE OF SUCCESS
ATTRACT VISUAL THINKERS IN YOUR CLIENTELE
YES, YOUR CREATIVITY IS VALUABLE & WORTH DEVELOPING
WHEN YOU CHANGE AND THEY DON'T LIKE IT
INNER WAYS TO MOVE THAT OUTER HOME
SHIFT TO SELF-EMPLOYMENT – PLOT YOUR PLAN
A CLASSIC VISUAL MANIFESTATION AID
2009
CREATION TIPS FOR A ROCKIN' 2010
DO YOU HAVE A HEALTHY SENSE OF SELF?
ADD SOME YIN TO YOUR REPERTOIRE
STRANGE DAYS INDEED, MOST PECULIAR MAMA!
HOW TO SHIFT YOUR CRANKY MOOD – FAST!
HOT AND BOTHERED? YOU AREN'T ALONE!
MY BEST TIPS FOR ATTENDING YOUR FIRST ABRAHAM-HICKS WORKSHOP
OUCH, MY URANUS IS IN OPPOSITION – YOU?!
TIPS FOR A SUCCESSFUL TRANSITION
THE EVER–EXPANDING VISUAL COMMUNITY
RECOMMENDED RELATIONSHIP RESOURCES
PROS AND CONS OF A DYSFUNCTIONAL PAST
TRIGGERED? COULD BE AN 'ORPHAN' CALLIN' OUT!
THE W5′S OF COACHING WITH GRAPHICS
THE ECONOMY ACCORDING TO ABRAHAM-HICKS
HOW TO DECIPHER THE LAW OF ATTRACTION (LOA)
IT DOESN'T HAVE TO BE A DIRTY WORD
ATTRACT YOUR LIFE PARTNER VIA FOUR LAW OF ATTRACTION TIPS
2008
TELL YOUR 2009 STORY
INTEGRATE BOTH YOUR LEFT BRAIN AND RIGHT BRAIN
HAVE FAITH IN THE WORLD, YOURSELF AND YOUR INSTINCTS
CREATE AN ORGANIZATIONAL CULTURE OF LOA
A TOOL TO RIDE THE ECONOMIC WIND
DO YOU CONSIDER YOURSELF A CULTURAL CREATIVE?
ARE YOU THE PACK LEADER OF YOUR VISION?
IT AIN'T ALWAYS PRETTY… OR EASY
MEETING GRAPHICS FOR BEGINNERS
YOUR LIVING SPACE: HELP OR HINDRANCE
REALLY BIG PICTURE VIEW OF LIFE
6 TIPS TO CORRECT A NEGATIVE SPIRAL
YOUR JOURNEY TO A CREATIVE-BASED LIFESTYLE
ENERGY LESSONS FROM A SWEET TEXAN COUPLE
COOL 'FRONTIER' TOOLS TO WAKE YOU UP!
2007
DO IT YOURSELF SHIFT FOR THE HOLIDAYS
RAISE YOUR VIBE VIA POSITIVE ASPECTS MAP
POINTERS FROM MY OWN SHIFT-IT JOURNEY
BE THE SCRIPTWRITER OF YOUR LIFE
WHY BOTHER WITH A PERSONAL VISION
SEE YOURSELF THROUGH A LIFE WHEEL
HOW TO DEAL WITH THE 'BAD' STUFF
BE BRAVE WITH YOUR INNOVATIONS
SPEED UP YOUR MANIFESTATION PROCESS
INSIGHTS FROM THE ABRAHAM-HICKS CRUISE
DECIPHER THE LAW OF ATTRACTION
2006
SURVIVE TRANSITION & ICKY NEUTRAL ZONES
LESSONS FROM THE DOG WHISPERER
SIX WAYS TO CORRECT A NEGATIVE SPIRAL
WHY GRAPHICS? THE CLARIFYING POWER OF INTERACTIVE
VISUALS
ABUNDANCE, PROSPERITY AND MONEY CREATION
HOW TO CREATE WORK YOU REALLY LOVE
SELF CARE, TOXIC ENVIRONMENTS, BEING "SELFISH."
IDEAL TIME TO UPDATE & REALIGN
---

Adobe Acrobat PDF Reader is required to read the SHIFT-IT Articles.
Click Here to download the Adobe Acrobat PDF Reader
---